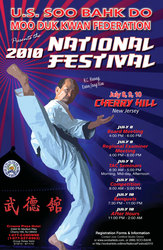 Soo Bahk Do Moo Duk Kwan master instructors from all over the world will be on hand to conduct seminars and other educational opportunities
Cherry Hill, NJ (PRWEB) July 1, 2010
If you are looking to watch a real karate kid this summer, don't go to the movies, head to Cherry Hill, N.J. The U.S. Soo Bahk Do Moo Duk Kwan Federation, one of the largest uniform karate organizations in the world, practicing the official martial arts system created by legendary martial artist, the late Grandmaster Hwang Kee, will hold their 32nd annual National Festival at the Crowne Plaza Hotel in Cherry Hill, N.J. on July 8, 9, & 10. Over 700 tots, children, and adults are expected to compete in a national tournament, while Soo Bahk Do Moo Duk Kwan master instructors from all over the world will be on hand to conduct seminars and other educational opportunities.
As a martial arts system, Soo Bahk Do Moo Duk Kwan is second to none when it comes to physical techniques. Among Grandmaster Hwang Kee's system practitioners is movie and television star Chuck Norris. But what really sets them apart from other martial arts systems is their emphasis on personal growth and values. Grandmaster Hwang Kee not only wanted his students to be able to avoid outside physical conflict, but he wanted them to be able to avoid inner conflict as well.
While Soo Bahk Do Moo Duk Kwan students have the tools through training to defend themselves, it is the tools they have developed through training that enable them to improve themselves, their community, and their world that are most important. Current Grandmaster, and Black Belt Magazine Hall of Fame 2004 Man of the Year, H.C. Hwang has emphasized to his students the Five Moo Do Values: 1. History, 2. Tradition, 3. Philosophy, 4. Discipline, and 5. Technique. In his words, "When we apply the Five Moo Do values to our daily training, we strengthen our self not only as a Moo Do practitioner, but also as an individual who provides a positive influence within our society."
The U.S. Soo Bahk Do Moo Duk Kwan Federation consists of 130 certified studios. There are currently over 5,000 members, with over 200,000 students registered since the Federation's inception in 1976. The U.S. Federation is the largest federation authorized by the World Moo Duk Kwan to teach this martial arts system, with federations existing in 25 different countries from around the world.
The public is cordially invited to view the festivities and discover more about Soo Bahk Do. Additional information and spectator tickets are available at http://www.soobahkdo.com. Following the National Festival in July, U.S. Federation officials are presenting a series of localized regional events across the nation throughout 2010 and certified instructors nationwide are sponsoring free community service "Monster Proof" programs to equip children to stand up to bullies and to become aware of, and protect themselves from, other predator activities. More information about "Monster Proof" programs can be found at http://www.monsterproofchildren.org.
###