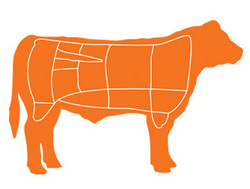 The La Cense Bulk Beef Program, coupled with our USDA certified grass fed beef, provides consumers with something they can't find anywhere else – a more convenient way to purchase an assortment of delicious, more healthful beef at great prices
Dillon, Montana (PRWEB) July 28, 2010
La Cense Beef ("La Cense"), the leader in the grass fed beef industry and the only USDA Certified grass fed beef producer, is excited to announce the launch of The La Cense Beef Bulk Program. This program allows consumers to save money and time the way earlier generations did when either a household or group of neighbors got together and purchased a whole or partial cow.
With the La Cense Beef Bulk Program, consumers are able to buy beef cuts in bulk at great savings and always have a large variety of cuts available at home. Customers have the option of either buying solely for their own home or sharing in the purchase of a cow with friends, family or neighbors. The benefits to participating in this program are numerous. They include substantial cost savings per pound, free shipping, and of course less trips to the butcher or market.
To encourage its customers to share in the purchase of a cow with other households, the online grass fed beef retailer is offering additional perks, such as a $100 American Express® gift card and future free shipping coupons. Plus, there are even greater incentives if the customer refers others to start a buying club, including a private tour of the La Cense Ranch in Southwest Montana. Check out this revolutionary new product offering at http://www.lacensebeef.com.
"I am delighted to make the La Cense Beef Bulk Program available to my customers. Over time we received numerous requests to make the purchase of a whole or partial cow available," said La Cense Beef owner William Kriegel. "While we originally designed the program to save customers time and money, we are also pleased to bring forward a platform for sharing that takes us back to simpler times when there was a great sense of community."
La Cense Beef is a pioneer in the grass fed beef industry. The first and only beef producer to receive the United States Department of Agriculture (USDA) "Grass Fed Beef" certification, La Cense successfully endured a rigorous auditing process by third-party Verified Beef. The process included reviewing all ranching practices, its structure and management, training of employees, the inspection of all feeds, records and labels and the administration of all foods and drugs. The audit confirms La Cense cattle to be truly 100 percent grass fed, never exposed to antibiotics, animal by-products or growth promotants, never treated with hormones, and source and age verified. It is only with source and age verification that consumers can be assured that they know what they are buying and can trust specific marketing claims.
Grass fed beef has been recognized to be the best beef option for human health, the animal, and the environment. According to numerous studies, grass fed beef is shown to be lower in total fat and calories than grain fed conventional beef. The higher Beta Carotene level in grass fed beef is helpful in reducing the risk of cancer and cardiovascular disease. Grass fed beef is also higher in Omega-3 fatty acids essential for enhancing heart health and reducing the risk of arthritis, obesity, insulin resistance, allergies and autoimmune diseases.
"The La Cense Bulk Beef Program, coupled with our USDA certified grass fed beef, provides consumers with something they can't find anywhere else – a more convenient way to purchase an assortment of delicious, more healthful beef at great prices," said William Kriegel.
About La Cense Beef:
The first company to meet the USDA's "grass fed" standard, La Cense Beef is a leading, all-natural cattle ranch focused on raising top-grade Black Angus cattle for exclusive direct-to-consumer beef sale. La Cense's 88,000-acre ranch in southwest Montana follows the principles of sustainable ranching, including free roaming and rotational grazing. The team of La Cense Beef ranchers, with years of experience working on Montana land with cattle, help ensure that a humane, stress-free environment is maintained. The La Cense Beef ranch sits at an altitude of 5100 feet in a pristine, vast landscape where the cattle enjoy the most natural, unadulterated life possible. For more information, visit http://www.lacensebeef.com.
# # #