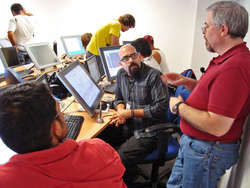 My goal is to make each student comfortable with what he or she needs to know in using the Toon Boom software—I'm not trying to teach them about every feature. And I speak to them in artist's terms.
Fairfax, VA (Vocus) October 8, 2010
Studio Kinate announced today that veteran animator Rusty Mills will bring his 25 years of West Coast animation experience, along with his obvious passion for teaching, to eager students on the lush campus of The National Conference Center in Lansdowne, VA from Monday, November 1 - Friday, November 5.
"I knew at the age of 8 that I wanted to be an animator," Rusty told us when we interviewed him recently. "In those days Disney was the obvious choice, so I sent them my drawings of Disney characters. I learned from that experience that drawing my own characters was preferable to just replicating theirs. Helping students develop their unique creative styles is a great part of my reward from teaching animation."
Rusty enjoyed a great career with some of the largest studios, working his way up from animator to producer. He discovered teaching accidentally when a colleague asked him to teach storyboarding during a lunch hour. "I was hooked."
Now Rusty's typical week consists of studio animation projects by day and teaching on evenings and weekends. This week he's working on an unannounced Pink Panther project, then teaching animation at both Studio Arts and the LA Valley Community College. He likes this mix of students, from industry professionals who come to hone their skills to various levels of budding animators still learning the craft.
One reason why Rusty's popular with students is his robust library of career examples. He uses them in class to illustrate various processes and techniques. He also shares practical tips so students can work faster and be more efficient. And he sheds light on the benefits of the various roles one can play in producing animated films, from animation roughs to in-between drawings, from clean-up to coloring. "Sometimes students really want to work on a different stage of an animation project than the one they're assigned. I help them understand the value of their current assignment—as well as the other roles in the process—so they can appreciate how it adds value to the entire production."
We asked Rusty why he likes Toon Boom software. "I think there are two major reasons: First, most animated feature films and TV series today use Toon Boom—it's really the 'Mercedes Benz' of animation software programs for the industry. The other reason is that Toon Boom's software integrates so well with other programs and functions in the animation process. So you can create background art in Photoshop and then easily bring it into Toon Boom."
We also asked Rusty about the level of animators who will be attending the November workshops in Virginia. "I'm sure it will be a nice cross-section of people in the industry. Sometimes in-house animators enroll because the company where they work is switching to another software program so they have to get up to speed quickly. Younger students sign up because they need to learn it to compete in the industry. And high school teachers also join us to fine-tune their knowledge and so they can better educate their students."
"My goal is to make each student comfortable with what he or she needs to know in using the Toon Boom software—I'm not trying to teach them about every feature. And I speak to them in artist's terms. I also show them how to adapt what they produce in the software so it doesn't look computer-generated."
Charlotte Rinderknecht, Studio Kinate's President, expressed her excitement about the upcoming workshops. "We're sensitive to the pressures of this economy, so we've 'unbundled' the five workshop days so animators can attend for one day, two days or all five. We're also offering great pricing on the workshop fees until October 15, as well as special discounts for teachers and group rates.
# # #