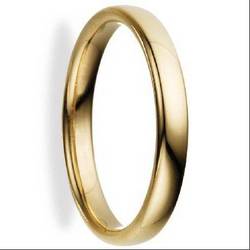 Jensen Beach, FL (PRWEB) October 28, 2010
Mens-Wedding-Rings.com is proud to announce that they will now be offering a new designer collection of gold, silver, palladium, cobalt and platinum men's alternative and traditional wedding rings. This collection of top-quality mens wedding rings perfectly complements the retailer's already spectacular selection of men's rings. Customers of Mens-Wedding-Rings.com will now be able to purchase these designer wedding rings for men at prices that are up to 70% off suggested retail prices.
Just in time for the holidays, Mens-Wedding-Rings.com has added several new collections of rings from one of the most respected US-based wedding ring designers. Included in these collections are rings made from a variety of top-quality metals, including three grades of yellow and white gold – 10K, 14K and 18K. In addition to traditional metals like gold, silver and platinum, this designer is known for making extraordinary rings in palladium and cobalt – two alternative metals that are extremely brilliant and strong. Most of the new rings for sale at Men-Wedding-Rings.com are available with a rounded interior, known as a "comfort-fit" design, a feature that has become quite popular on men's rings.
Mens-Wedding-Rings.com is proud to announce that their new designer collection offers quality workmanship that is on par with the world's most prominent wedding ring designers. All of the rings they sell are backed by a 100% Satisfaction Guarantee, and they come with a Lifetime Guarantee and free engraving. Plus, they are currently offering an additional store-wide discount of 10% discount off of their everyday low prices on every ring they sell.
About Mens-Wedding-Rings.com:
Mens-Wedding-Rings.com is known for their innovative collections of modern and traditional men's wedding bands and rings, from the simplest wedding band to a highly decorative alternative ring. MWR focuses on delivering prime quality, affordable men's wedding rings, available in all sizes - even those hard-to-find large sizes. In addition to their new designer collections of gold, silver, platinum,, palladium and cobalt, Mens-Wedding-Rings.com offers non-designer rings in titanium, tungsten, sterling silver and stainless steel in alternative and traditional styles. By focusing exclusively on men's wedding rings, in every size, style and price range, it is their goal to offer the best quality, service and selection in this market segment.
Contact Mens-Wedding-Rings.com:
To learn more about this new designer collection at Mens-Wedding-Rings.com or to schedule an interview, please contact Roy or Judy Devine at customerservice (at) mens-wedding-rings (dot) com, or contact them directly by telephone at (800)676-0363.
Mens-Wedding-Rings.com | 1820 Jensen Beach Boulevard, Suite 640 | Jensen Beach, FL 34957
###