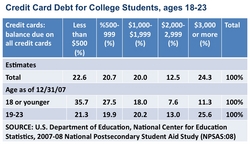 "In this poor economy, parents are wondering how they can help their children plan for their futures. They want to give them holiday gifts that are meaningful and pay off over the long term."
East Stroudsburg, PA (PRWEB) November 24, 2010
As shoppers enter a fourth holiday season with a stagnant economy and high unemployment, many parents and grandparents are looking for Christmas gifts that can pull double-duty as good investments. Instead of buying a frivolous gift that will be quickly forgotten or an e-gadget that becomes obsolete overnight, parents are buying holiday gifts that will continue to pay off over time. Enter financialfootprint, a company that offers young adults personalized financial solutions and financial education via one-on-one meetings and an array of online tools. Designed specifically for young adults, the program provides guidance about personal finance issues ranging from student loan options to credit card basics.
An October Gallup poll predicted that this Christmas season will bring another year of poor returns for traditional holiday retailers, but financialfootprint has experienced the opposite effect. "We've seen an increased interest in our service as we enter the holiday season," said financialfootprint co-founder Dave Kittredge. "In this poor economy, parents are wondering how they can help their children plan for their futures. They want to give them holiday gifts that are meaningful and pay off over the long term."
Priced at $120, an annual subscription to financialfootprint is a bargain, and the company currently is running a holiday special for only $99. The subscription includes an unlimited number of meetings with a subscriber's own Personal Finance Guide, and access to an array of online tools like budgeting worksheets and a student loan calculator. For Kittredge, who was motivated to start the company by his own experience parenting two young adults, "there is no better gift than teaching your children how to manage money and build a financially successful future." And at a price-point that most families can afford, financialfootprint is a gift that is within everyone's reach.
According to a recent survey by the National Retail Federation, the average young adult, aged 18-24, will spend about $470 on holiday gifts this year. But 57% of college students are already carrying a credit card balance of over $1,000, and one quarter of these students said that their parents help them pay their credit card bill (see table). "These young adults are already struggling with their student finances and they need help," said Dave Ng, the other financialfootprint founder. "Our service provides them objective financial education and guidance that they are not getting anywhere else."
Ng chalks up his company's recent success to having discovered the perfect market niche. "When you look around, there are not many existing financial services that are geared towards young adults," said Ng, himself a young adult. When Ng graduated from college a few years ago and entered the financial service industry, his friends began coming to him for financial advice. "I realized that there was nowhere for my peers to get unbiased financial guidance," said Ng. It was this realization that got him talking to Kittredge about starting financialfootprint.
"This holiday season, parents and grandparents are looking for ways to help their children with their finances. Gifts such as money and gift cards can sometimes aid in the short term, but they lack the long term financial impact the gift giver is looking for," said Ng. "Today, parents are looking for a service to teach their children how to save and manage their money and financialfootprint offers that at a very reasonable price."
financialfootprint offers personal financial solutions and education tailored for young adults via a one-on-one guidance service. Using video chat, online chat, phone, and other media, a professionally trained Personal Finance Guide meets with clients on an individual basis, working around their schedules to offer quality and personalized financial guidance. More information is available at http://www.financialfootprint.com, or please contact David Ng at 570.422.7979 or David.Ng(at)financialfootprint(dot)com.
###