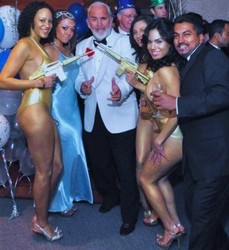 Washington DC's Sexiest New Year's Eve Party is the 007 James Bond Thunderball Gala with Martinis, Mock Casino, Exotic Cars, Bond Girls, Amazing Decor, Open Bar, Buffets, Desserts, Live Band, Top DJs, Party Favors, Champagne & Times Square 2011 Countdown.
Washington, DC (PRWEB) November 24, 2010
On Friday, December 31st, 2010, Euronet International hosts its 9th Annual New Year's Eve James Bond Gala in Washington DC at the Washington Plaza Hotel. The 007 Gala attracts over 1500 singles and couples of all ages and nationalities and there is a 007 Singles Alter Ego Mixer rendezvous for sexy single guests.
Inspired by famous scenes from the Bond movies, the James Bond gala's lavish décor recreates iconic imagery from England, France, Iceland, Istanbul and Spain. Guests enter the world of Agent 007, unleash their alter egos and become sexy spies, smooth talking villains and charming henchmen at this evening of martinis, mock casino gambling, sexy Bond Girls, gold guns props, and amazing ice sculptures. Fast service, open bars, delicious cuisine, desserts, entertainment, champagne toast, party favors and a Live Broadcast to Times Square at midnight sets the ambience to Countdown to 2011 on an All Time High.
Entertainment in international 007 locales keeps guests rocking the night away. In England, The Night & Day Band plays renditions of the classic James Bond songs mixed into their repertoire of Swing, Jazz, Big Band, Latin, Motown, Oldies, Classic Rock and Disco Hits. In the other locales, France, Iceland, Istanbul & Spain 4 of DC's TOP DJ's spin hits from the 70s, 80s, 90s, Rock n' Roll, Motown, Salsa, Meringue, Reggae, R&B, Hip Hop, Middle Eastern, House and Trance mixes.
Our Gala Partner, this year Prestige Annapolis Service Center delivers a license to thrill for 007 fans with a showcase of exotic Bond Cars. Guests will have an exclusive opportunity to get a photo souvenir with the Bond cars and the sexy Bond Gold Girls.
Our other Gala Partner this year, The International Spy Museum of Washington DC will showcase cool spy gadgets and guests who want more of "Bond, James Bond" can win prizes for discounted admission to the International Spy Museum in 2011 - perfect for honing your secret agent skills.
In past years, the James Bond Gala was selected as one of the top five parties for New Year's Eve across the USA by Playboy Magazine. It has been featured on Fox News, and been Editor's Pick in DC.About.com, Washington Post and Washingtonian, among others. Testimonials from past gala patrons can also attest to the caliber of this gala.
Aki Partanen, President of Euronet International says, "This is Washington DC's Sexiest New Year's Eve Party. It's the ultimate spot for Bond fans to unleash their sexy alter egos and transform into debonair secret agents, seductive Bond Girls, alluring femme fatales or deceptive villains and travel like James Bond, from one movie scene to the next, around the various Bond destinations recreated for them at the 2011 New Year's Eve James Bond Gala."
As of press release date, tickets cost General $139pp, VIP 189pp. Presidential $250pp. Hundreds of tickets already sold. Buy early before prices increase. Click here to buy tickets Group discounts are available.
Hotel: Washington Plaza Hotel, located at
10 Thomas Circle NW
Washington DC 20005.
Rooms $99.
Valet Parking is $20 for the gala and $28 for overnight gala guests.
Hotel is exclusively reserved for New Year's Eve 007 Gala guests.
Upscale Attire: Black/White Tuxedo. Evening gown, cocktail dress. Bond Character Lookalike.
Gala Sponsors or Gala Partners interested in reaching more than 1500+ attendees directly can contact us.
Media interested in covering this event live or on radio and television can contact us.
About Euronet International
Euronet International was founded in 1999 and is a social group that creates unique spaces for professionals from many nationalities to socialize and network with each other at exclusive gatherings with an international focus in trendy locations around Washington DC.
###