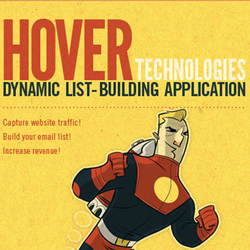 I wanted to build my own email list without spending a lot of money. That's how HOVER got started.
Tulsa, OK (PRWEB) July 15, 2010
Email lists are one of the most important sales tools a business can have. But building that list can be problematic and time consuming.
One method of email list building is to rent one, but that can get expensive quickly.
"List rental costs can range from $1,000 to $15,000," said Tony Brobst, president of Rockitsoft. "And that's for a single use.
"I wanted to build my own email list without spending a lot of money. That's how HOVER got started."
HOVER, developed by Rockitsoft Internet Technologies, gives website owners an easy, unobtrusive way to collect and store email addresses.
And for around $30 a month, HOVER is a much more cost-efficient way to build an email list.
"It's an extremely effective tool for email list building," said Tony Brobst. "With the help of HOVER, I've been able to double the size of my own email list."
Starting from scratch, Brobst built an email list of over 9,000 email addresses in three months using HOVER on his ecommerce site, thecamoshop.com. Since then, HOVER has collected a total of 12,600 email addresses for his list.
"For an ecommerce business that has to pay for each visitor, this is huge," Brobst said.
Not only is HOVER affordable and attention-getting, it is also easy to use. The step-by-step process allows users to create and test their ad before adding it to their site. Once the ad is ready, all they have to do is copy and paste a snippet of code into their site.
"I know how hard it can be to learn a new technology," said Brobst. "That's why I knew HOVER had to be intuitive, because I don't have time for a long learning curve."
Users can also export their email addresses via .csv to popular email marketing services such as Constant Contact, iContact, Ratepoint, etc.
Because HOVER uses an unblockable popup script, users never have to worry about an overzealous pop-up blocker hiding their ad from site visitors.
"HOVER ads get attention without annoying your visitors," said Brobst. "They'll disappear on their own after a certain time, and they don't block your content, which is the real reason people come to your site."
Try out HOVER for free today! Visit http://www.rockitsoft.com to try out the free demo.
# # #