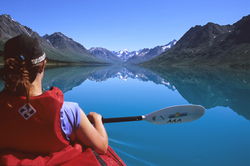 Twin Lakes really is Alaska at its finest.
Anchorage, AK (PRWEB) May 6, 2010
Alaska Alpine Adventures, an Anchorage, Alaska based adventure travel company has been awarded National Geographic Traveler Magazine's 2010 "50 Tours of a Lifetime!" in the May/June, 2010 issue for their Twin Lakes Paddle itinerary – a multi-day kayaking and hiking adventure deep in the heart of Alaska's remote Lake Clark National Park.
"We are both honored and humbled by this distinction" said Operations Manager Aaron Fetter of the award. "From the first time we ran this particular trip in 2003, we knew Twin Lakes was special. Not only is the hiking and kayaking simply amazing, the highlight for many of our guests is the visit to Dick Proenneke's cabin on Hope Creek. People have called Lake Clark National Park 'Alaska's Epitome', and Twin Lakes really is Alaska at its finest."
The 7-day adventure tour to Twin Lakes, which begins and ends in Anchorage and includes bush flights, food, and one night in a lodge on Lake Clark, takes participants by floatplane into the heart of the Alaskan wilderness and the shores of Twin Lakes for 5 days of kayaking and hiking. Twin Lakes sits nearly at the geographic center of the 4-million-acre Lake Clark National Park – a park that receives only about 5000 visitors per year and remains one of the least visited NPS units. The trip culminates with a visit to the hand-hewn log cabin of Dick Proenneke, the subject of the PBS series Alone in the Wilderness that depicted his Thoreau-like existence here from 1968 to 1998.
"The selection process for Traveler's "50 Tours of a Lifetime" was competitive and our editorial team worked long and hard to find 2010's most authentic, most innovative, most immersive, best-guided, and most sustainable tours. The outfitters we selected have responded to travelers looking for more meaning and context," notes senior editor Norie Quintos, who headed up the project. "And beyond guiding you to the destination, they've also found novel ways to give back."
Alaska Alpine Adventures has been leading Alaska wilderness trips and adventure vacations throughout Alaska's spectacular national parks and wildlife refuges since 1998. They were also recognized by National Geographic as one of the "Best Adventure Travel Companies on Earth" in both 2008 & 2009.
###