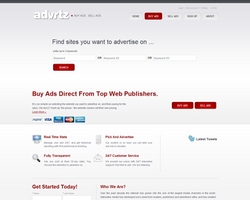 In essence it (Advrtz.com) allows brands to form relationships with their consumers. Brilliant!
Toronto, ON (PRWEB) July 2, 2010
After almost a year of development the Advrtz.com advertising marketplace launched officially in beta yesterday to rave reviews and selling over 10 million ad impressions a day in just under 24 hours.
The advrtz.com marketplace allows advertisers to buy ads directly from top tier niche web properties, with the confidence that the quality of ad placement is being managed by a professional and independent firm who's goal is to bring long term relationships and tremendous return on investment for advertisers and publishers alike.
"The positive response and sell out of our network ads demonstrates that there is a demand for simplified , niche, high quality advertising networks" states Chad Cooper, Director of Publisher Relations at Advrtz.com. "Our focus is building relationships between webmasters and brands, bridging the gap so online publishers can do what they do best, create content and we can focus on monetizing their property."
Advrtz.com had over 500 publishers sign-up yesterday, however due to the high quality publisher requirements that Advrtz,com prides itself on less than 10% of those who have applied will be approved.
Over the past decade the internet has grown into the one of the largest media channels in the world. Interactive media has developed out a need from readers, publishers and advertisers alike, and has created a delicate balance of information, sales and knowledge. Advrtz exists to facilitate this relationship providing readers with the information and knowledge they crave and search for, publishers the quality media content they need to derive revenue and advertisers a means to deliver all this information and increase sales.
About Advrtz.com
Advrtz facilitates the relationship between advertiser, web user and publisher by passing top tier media sources across the web. We develop media campaigns that allow advertisers a forum for their ad and publishers quality content and a source of revenue all while providing the web user with quality and legitimate information and knowledge.
For More Information Please Contact
Chad Cooper
Publisher Relations
866 692 3878
http://www.advrtz.com/
###