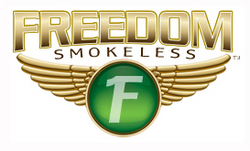 Freedom Smokeless' two-piece electronic cigarettes are tobacco-free, ash and smoke-free and do not produce second hand smoke.
Reno, NV (PRWEB) April 19, 2010
Freedom Smokeless announced today that they are now selling their premium brand electronic cigarettes via the internet. Previously, Freedom was sold exclusively through retail outlets. Glenn Kassel, Freedom's President and Co-founder said, "The response that we have received from our retail customers has been overwhelming and selling on the internet was a natural progression for our Company to make." Freedom put over a year into the research, design and development of their product. Their two-piece electronic cigarettes are tobacco-free, ash and smoke-free and do not produce second hand smoke. Mike Lewis, Freedom's CEO said, "As a smoker myself, I am very sensitive to the needs of our customers. We have a custom designed, technologically advanced delivery system that inhales and exhales a "smoke like" water vapor exactly like a tobacco cigarette without flame, smell or all of the carcinogens contained found in tobacco."
Freedom has partnered with Digital Brand Group (DBG) to launch and sustain this campaign. Jeremiah Jacks, CEO of DBG said, "I am pleased to partner with Freedom. Their emphasis on quality and unparalleled customer support mirrors that of DBG. We look forward to dominating the market together!" The campaign will include aggressive affiliate marketing, both domestically and internationally.
Freedom has a starter kit that consists of a lithium ion battery, USB charger, AC wall adapter and a 4-pack of atomizers. Customers have the option to upgrade to either a deluxe kit that includes a second battery (either in white, black or chrome) or the platinum kit that also adds a carry case and extra pack of atomizers. To help the launch, all customers that order will receive a free car charger. The battery, carry case and chargers all carry the distinct Freedom logo. The atomizers are available in two flavors (tobacco and menthol) and four nicotine strengths-high, medium, low and zero.
About Freedom Smokeless
Founded in 2008, Freedom proudly assembles their electronic cigarette products in the United States. Striving for technological excellence, Freedom has invested heavily into R & D and has produced an electronic cigarette that has proven to be the most reliable and satisfying experience in the market today. The products are designed to provide a fresh alternative to traditional tobacco for the smoker.
About Digital Brand Group
Digital Brand Group is one of the leading digital business companies for emerging small and middle-market companies. DBG's proven business and technology integration expertise spans across multiple industries that include (but is not limited to): manufacturing, real-estate, apparel, food & beverage, health & beauty care, transportation, automotive, government, educational institutions and non-profit organizations. DBG's International team also offers a specialized competency in culturally-oriented / family-owned businesses.
###