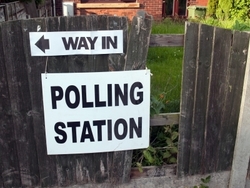 UpMyStreet is helping the public to engage with the political process by providing them with information they can digest at a local level
(PRWeb UK) April 17, 2010
Neighbourhood website UpMyStreet is entering the 2010 General Election fray with the community perspective on the key party policies.
In response to feedback from users, the seasoned local information resource has launched an interactive chart comparing the key political parties' policies most likely to affect people in their local area.
Each of the political parties has provided a statement on community which the public can interpret as they see fit.
"UpMyStreet is helping the public to engage with the political process by providing them with information they can digest at a local level. This will empower them to make an informed decision about which party will best serve their family and their community," says UpMyStreet spokeswoman Annabel McQeeen.
"Party catchphrases such as Labour's 'Fair Future' and the Conservative's 'Big Society' mean little to the average member of the public when they consider the priorities in their individual communities. Our chart enables people to dig a bit deeper, ask a few hard questions of their local candidates, then make a more informed vote," Ms McQueen said.
UpMyStreet has also launched a 2010 General Election forum to give users the ability to create and contribute to discussions in the areas they live in, and enable local candidates to promote their cornerstones, respond to comments and explain their position.
Notes to Editor
Are you looking for spokespeople from communities around the UK? Get in touch with UpMyStreet.com.
About UpMyStreet
UpMyStreet.com has been helping people get more out of their neighbourhoods since 1998.
It is one of the leading community websites in the UK; enabling people find out about their local area or choose new areas to live, research property and crime information, save money in and around their homes, and access local business and services.
UpMyStreet is owned by Scripps Networks Interactive (SNI), one of the leading developers of lifestyle content for the television and internet worldwide. The company's media portfolio includes: Lifestyle Media, with popular US lifestyle television brands HGTV, Food Network, DIY Network, Fine Living Network and country music network Great American Country; and Interactive Services, including online search and comparison shopping service Biz Rate and Shopzilla.
###