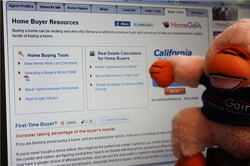 Buying or selling a home is often a daunting task
Emeryville, CA (Vocus) June 2, 2010
HomeGain®, a leading online real estate resource that connects home buyers and sellers with real estate professionals, today announced it has integrated a comprehensive suite of home buyer and seller tools into its AgentView platform.
HomeGain.com now provides the following calculators for home buyers and sellers:

Stay Put or Trade Up Calculator helps potential home buyers and sellers calculate the comparative costs of staying put or trading up.
Improve or Move Calculator helps homeowners compare the cost of home improvements versus the cost of moving to a new home.
Home Sale Proceeds Calculator helps sellers determine how much money is left over after the sale of a home.
Capital Gains Calculator helps sellers calculate their home sale capital gains.
Private Mortgage Insurance Calculator calculates the PMI.
Other home buying and selling tools include:
New Home Wish List helps buyers keep track of desired property characteristics.
Buyer Agent Interview Worksheet helps buyers compare important characteristics when interviewing real estate professionals.
Seller Agent Interview Worksheet helps sellers compare important characteristics when interviewing real estate professionals.
Real Estate Library contains dozens of articles on the home buying and selling process.
Real Estate Glossary contains definitions of specialized real estate terms.
These tools and calculators are integrated into HomeGain's AgentView platform, which also features local information, HomeGain's Home Sale Maximizer™ and instant home valuation tools as well as HomeGain agent members' listings, profiles and blogs.
"Buying or selling a home is often a daunting task," stated Louis Cammarosano, General Manager at HomeGain. "This integration provides consumers with a comprehensive set of tools to help guide them through the home buying and selling process – as well as providing easy access to HomeGain member real estate agents and brokers who can provide additional assistance."
About HomeGain
HomeGain® is a leading provider of online marketing programs that connect real estate agents and brokers with home buyers and sellers. HomeGain offers free services to find and compare real estate agents, research home values, and view homes for sale. REALTORS® use HomeGain's real estate marketing programs to connect with consumers, promote their services and grow their business. HomeGain.com has been a top visited real estate website since 1999. HomeGain is your real estate connection.
###