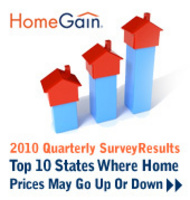 Emeryville, CA (Vocus) March 23, 2010
HomeGain, the first website to provide free instant home values, today announced the results of its First Quarter Home Prices Survey based on the responses of over 1,400 real estate agents and brokers nationwide.
The HomeGain survey shows that 77 percent of real estate professionals nationwide think home prices will either stay the same (48 percent) or decrease (29 percent) in the next six months. In comparison, the first quarter 2009 survey results indicated that 89 percent of agents and brokers thought home prices would decrease (53 percent) or stay the same (36 percent).
Top 10 States Where Real Estate Agents and Brokers Think Home Prices Will Go Down In the Next Six Months:
1. Minnesota (82%)
2. Oregon (65%)
3. Illinois (54%)
4. Utah (50%)
5. New York (44%)
6. New Jersey (44%)
7. Nevada (43%)
8. Michigan (42%)
9. Connecticut (42%)
10. Washington (35%)
Sixty-three percent of surveyed agents and brokers indicated that their home buyer clients think homes for sale are overpriced. Seventy-seven percent indicated that homeowners think their home is worth more than their agents' recommended listing price.
"In the first quarter survey many agents and brokers expressed concern over five factors that could potentially adversely impact home prices: rising interest rates, expiration of the home buyer tax credit, persistent unemployment, continued foreclosures and the release of shadow inventory held by the banks," stated Louis Cammarosano, General Manager at HomeGain.
Texas real estate professionals appear to be the most optimistic in the nation regarding the direction of home prices with 41 percent believing home prices will rise in their state in the next six months and only 11 percent thinking they will go down.
Top 10 States Where Real Estate Agents and Brokers Think Home Prices Will Go Up in the Next Six Months:
1. Texas (41%)
2. Massachusetts (38%)
3. California (37%)
4. Nevada (36%)
5. Idaho (31%)
6. Colorado (31%)
7. Alabama 25%
8. Tennessee (25%)
9. Arizona (23%)
10. Indiana (22%)
Forty-two percent of agents and brokers surveyed indicated approval of Barack Obama's performance as President, unchanged from the fourth quarter in 2009. Forty percent of surveyed respondents "strongly disapproved" and 18 percent "somewhat disapproved" earning the President a 58 percent disapproval rating, unchanged from the fourth quarter 2009 survey. The President fared slightly better in the Rasmussen Daily Presidential Approval Index taken during the same period as the HomeGain survey, with his disapproval rating hovering in the 53-56 percentage range.
The HomeGain survey was conducted from March 3-10, 2010.
For complete survey results, including regional breakdown, results of foreclosure and first-time buyer questions, and agent and broker commentary, visit the HomeGain Real Estate Blog.
About HomeGain
HomeGain is a leading provider of online marketing programs that connect real estate agents and brokers with home buyers and sellers. HomeGain offers free services to find and compare real estate agents, research home values, and view homes for sale. Realtors® use HomeGain's real estate marketing programs to connect with consumers, promote their services and grow their business. HomeGain.com has been a top visited real estate website since 1999. HomeGain is your real estate connection.
###