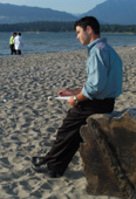 "All these customers where calling and saying how they wanted to homeschool their kids and travel the world"
Orange Park, Florida (PRWEB) April 19, 2010
Citizens' High School has been enjoying a surge in enrollments. The Homeschooling Materials Provider noticed during a marketing audit, that many new customers were the result of New York Times bestselling author Timothy Ferriss' book The 4-Hour Work Week. Ryan Dallas who works in Citizens' admissions department had never heard of the book previously. Mr. Dallas "All these customers where calling and saying how they wanted to homeschool their kids and travel the world". This new lifestyle is made possible by the clever use of outsourcing, the 20/80 principle, and "income muses" that are described in the book.
At present there are about 2 million home schooled children in the USA according to the US Consensus Bureau. Estimates vary, but homeschooling may be increasing as much as 20% per year. This is due to a variety of reasons (not just Ferriss' book). Another characteristic of home schooled kids is that their parents are likely to be married and above average income and education. This might also account for the increased travel as the parents may have more time because of the recent economy. If parents are partaking in long term travel abroad, then the children will benefit from the life experience of living someplace foreign.
The 4-Hour Work Week has become like a cult hit. The basics of the book are to use the Paretto Principle (or the 20/80 rule) that gives you 80% of the results with 20% of the effort. When this is applied to "income muses" via outsourcing, the result is that a lot of income can be made with only 20% of the current effort. This explains the attraction to the book as many people would love to earn 80% of their current income working only 20% as much. Having less income, may result in a better lifestyle if the reader uses a technique called "geo-arbitrage). Essentially it is earning income from one place, like the USA, while living in a place with a cheaper cost of living such as Argentina.
Citizens' High School has been a DETC accredited High School since 1981. The DETC accreditation is considered the benchmark accreditation to have for educational institutions. Their office is located in an 8000 sq ft office in Orange Park Florida, but they serve student both nationally and internationally.
For all written correspondence address mail to: Citizens' High School 188 College Drive P.O. Box 66089 Orange Park, FL 32065-6089
Contact Information: Citizens' High School http://www.citizenschool.com/homeschooling.htm 1-800-736-4723
# # #