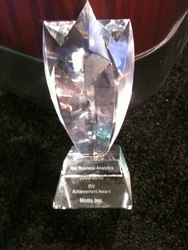 "In preparation for IBM Cognos 10, Motio has updated all of its products. It has been a privilege to work with IBM on this ground-breaking release. IBM Cognos 10 will be a game changer and we will be ready." Roger Moore, MotioCI Project Manager
Dallas, TX (PRWEB) October 27, 2010
Motio, Inc., recipient of the 2009 - 2010 IBM ISV Achievement Award for their industry leading technology solutions for IBM Cognos, has been working closely with IBM and IBM customers for many months in anticipation of the release of IBM Cognos 10. We, along with our customers are very excited about the new release of IBM Cognos 10 – packed with valuable new features.
Starting in spring 2010, Motio began testing its suite of products against beta builds in IBM Cognos 10. Motio continues its ongoing investment in cultivating products that streamline, augment and optimize IBM Cognos.
"In preparation for IBM Cognos 10, Motio has updated all of its products including the industry leading version control and testing platform MotioCI, and our free product MotioPI," said Roger Moore, MotioCI Project Manager. "It has been a privilege to work with IBM on this ground-breaking release. IBM Cognos 10 will be a game changer and we will be ready."
About Motio:
Motio Inc., an IBM Business Partner since 2003, specializes in developing software solutions that streamline and automate key aspects in the BI development process. For more information about Motio and their award-winning IBM Cognos solutions, visit http://www.motio.com.
# # #