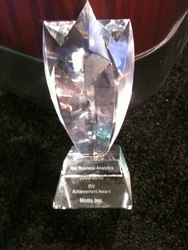 "We are excited and honored to have received the IBM ISV Achievement Award at this year's IOD," said Lynn Moore, CEO, Motio, Inc. "It was wonderful to be recognized as the leader in providing solutions that extend the IBM Cognos product suite."
Dallas, TX (PRWEB) October 27, 2010
IBM announced Motio, Inc. as the 2009 - 2010 recipient of the ISV Achievement Award during the Information On Demand/Business Analytics Forum in Las Vegas, NV. Motio was recognized as the ISV Achievement Award winner for their innovative technology solutions for IBM Cognos. During IOD/Forum Motio announced the release of two new additions to their suite of products, MotioPI Pro and cloud based solution, ReportCard.
Motio is the recognized industry leader for Business Intelligence Life Cycle Management solutions, delivering products and services designed to enhance and optimize IBM Cognos. Motio's solutions include MotioCI, MotioPI, MotioADF and MotioCAP.
About Motio:
Motio Inc., an IBM Business Partner since 2003, specializes in developing software solutions that streamline and automate key aspects in the BI development process. For more about Motio and their award-winning IBM Cognos solutions, visit http://www.motio.com.
###