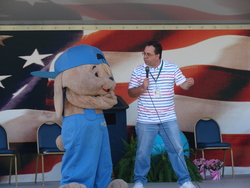 "Improvements in attitudes and knowledge were reported across all grade levels...Teachers indicated their intention to improve money management, increase savings, and decrease debt."
Los Angeles, CA (PRWEB) October 7, 2010
Los Angeles, California based It's A Habit (http://www.itsahabit.com), starring the trademarked Sammy Rabbit character was highlighted as a key component to the success of the two year "Parents and Teachers as Wealth Coaches" project detailed in the most recent issue of the Journal of Family and Consumer Sciences.
The endeavor demonstrated gains in financial literacy in children ages 3 to 11. Financial literacy is thought by many experts to be a key to a more secure, independent, debt-free life and the realization of one's dreams and goals. This report comes at a time when American families are seeking solutions to a brighter financial future for their children. It also is likely to be well received by Secretary of Education Arne Duncan, Federal Reserve Board Chairman Ben Bernanke, and U.S. Treasurer Timothy F. Geithner, all of whom have expressed keen interest in early financial education measures.
The project was conceived and conducted by University of Maryland Cooperative Extension educator Megan O'Neil-Haight. It earned her the 2009 National Extension Association of Family and Consumer Sciences Dean Don Felker Financial Management Award.
The effort delivered Sammy Rabbit character and author based programs and materials to more than 5,000 families in southeastern Maryland. The initiative improved student knowledge about money, saving, and goal-setting across all grade levels. It also increased teacher commitment to discussing personal finance in the classroom. Results of the project were culled from pre and post-test data, and from surveys taken in 147 classrooms.
"Kindergartners aren't too young to start saving. Even with them being 5, they really get it. I think because of Sammy Rabbit, it clicks," said one teacher, in a newspaper interview.
The project's findings correlate with an abundance of anecdotal evidence on the effectiveness of Sammy Rabbit and It's a Habit Company programs and products from the Air Force Aid Society, Citibank, Credit Unions, the California Teachers Association, state Jumpstart Coalitions, the Texas FCCLA and the Arnold Foundation.
Over the last ten years It's a Habit founder Sam X Renick and Sammy Rabbit have delivered their dynamic brand of financial education to more than 250,000 students, parents and teachers in 35 states and 7 countries. After personally witnessing a program, subject expert Janet Bodnar stated in her Kiplinger Personal Finance column "Sam Renick can whip a gym full of elementary-school kids into a frenzy of enthusiasm for saving money."
A key element of the It's a Habit strategy is the program's multi-sensory approach to varied learning styles and developmental stages of learning. The It's a Habit program uses a simple and memorable approach to a concept (financial management) that baffles even well-educated adults while integrating lessons on reading, writing and character that align with education standards.
"We're proud to be making a positive difference at a time when families need empowerment and optimism," said Renick.
Funding for the landmark project came from the Annie E. Casey Foundation, State Farm, and Nationwide Insurance companies.
About It's a Habit and Sammy Rabbit
The Los Angeles based enterprise founded in 2001 by financial education innovator and award winning social entrepreneur Sam X Renick is a global leader in live, interactive family financial education programming built around its main character, Sammy 'the get in the habit' Rabbit.
The mission of IAHC is to provide children, families, and organizations with strategic tools that encourage the multiplication of good habits, especially saving money and reading.
Using original stories and songs from one of the world's largest audio financial education libraries along with catchy mantras like "Saving is a Great Habit," and "From Every Dollar, Save A Dime," children are taught to take what use to be a dull and daunting subject and turn in into a fun, self-empowering life lesson.
Renick and his team are recognized the world over for their hand in raising financial awareness in the minds of both children and adults, and have received numerous awards including a 2009 Induction onto the Loyola Marymount University "Entrepreneurs Wall of Honor", as well as the prestigious Institute of Financial Literacy Children's Book of the Year Award in 2008 and the California Jumpstart Coalition Leadership Award in 2007 for excellence in financial education. Additionally, It's a Habit holds the unique distinction of having its products achieve recognition for use by others on three different levels: Corporate, University, and High School.
###