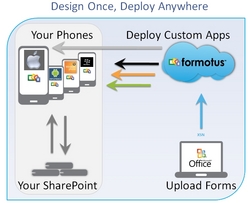 Formotus combines the advantages of a native app – offline productivity and tight integration with the camera, for example – with the real-time agility and flexibility of a Web app.
Bellevue, WA (PRWEB) November 29, 2010
Formotus, Inc., says its rich client software became available for free download yesterday. Companies with a paid subscription can create custom data-connected forms and push them to the iPads and iPhones of their employees. The free demo account includes forms that give a hint how this could be a game changer in the enterprise.
"We're very excited to be launching on our third platform," says Adriana Neagu, CEO and co-founder of Formotus. "Without a doubt customers have been asking for an iPad and iPhone version of our mobile client software more than for any other feature."
Design Once, Deploy Anywhere - A New Model for Mobile Application Design
Formotus offers a rapid, code-free way to create, deploy and manage mobile solutions that run natively on different operating systems. The same form that works on iPhone and iPad will also work on other devices, including Android and Windows Mobile.
"The power of our solution is in its portability," says Neagu. "We created an inspection form for a company two years ago and they were using it on Windows Mobile devices. Today they can deploy that same form directly to an iPad, iPhone or iPod Touch user with no additional development effort."
In the past, companies wanting to support multiple platforms had two choices: custom coding projects for multiple operating systems, or settling for only what can be done in a mobile browser. The Formotus solution combines the advantages of a native app – offline productivity and integration with phone features such as the camera and touch screen – with real-time agility and flexibility like a Web app.
Direct Connections to Your SharePoint Data, Without a Browser
SharePoint connectivity is built right into Forms Central. Enterprises already using SharePoint can easily start connecting to it with mobile devices, and smaller companies automating their paper forms for the first time can get started inexpensively with a hosted SharePoint account. SharePoint connections are made directly between the Formotus mobile client and the SharePoint server – no proxy servers or add-ins are needed on the back end.
BYOD: A 'Bring Your Own Device' Solution
One trend Neagu sees accelerating is the consumerization of enterprise mobility. "We see IT departments struggling with the rapid influx of all kinds of personal mobile devices in the enterprise," she says. "Forms Central is more than an app. It's a secure dedicated workspace a company can control, even on privately owned phones, where serious data-connected work can take place."
Forms Central is under complete control by the enterprise, even if the phone itself is employee owned and individual-liable. The app itself only functions when the mobile user is authenticated against the Formotus server, and the forms available on the phone are limited to those that have been deployed specifically to that user. Individual forms can be removed at any time from a user's device, or the app itself can be disabled remotely.
Custom Line-of-Business Applications for Any Industry
Formotus mobile business forms for iPad, iPhone and other devices can be used to automate mobile workflow and data collection in any industry, including field service and repair, sales, deliveries, surveys, inventory, inspections, and mobile health care. Companies of all sizes can design custom mobile line-of-business applications such as inspection reports, signature capture forms, mobile work orders, proof of delivery, field service dispatch systems and workflow for mobile workforce management.
About Formotus
Formotus, Inc. is the creator of the Formotus Software + Services Platform which enables businesses of any size to create, deploy and manage the lifecycle of mobile business applications on many kinds of mobile devices. Formotus subscriptions are sold through carriers and a growing network of partners. To learn more about how Formotus makes mobilizing business data fast, easy and low cost visit http://www.formotus.com.
"Formotus" is a trademark of Formotus, Inc. All other trademarks and registered trademarks are owned by their respective companies.
Contact:
Monica Voicu
Formotus, Inc.
206-973-5060
monica(do)voicu(at)formotus(dot)com
# # #