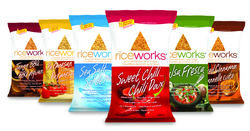 The aim of the contest was to demonstrate how charitable and community events could go better with riceworks crisps in attendance
(PRWEB) October 18, 2010
"Soccer, poetry and crunchy rice triangles may not seem the most likely after-school combination" says Ms. Tricia Ryan, Director of Marketing at Shearer's Foods Canada, Inc. producers of riceworks® Gourmet Brown Rice Crisps.
But that's one reason America SCORES New York was judged most eligible to win the final installment of the How riceworks Better Contest. For three subsequent months, a different worthy event was selected to win $4,000, plus enough riceworks crisps to make the event a success.
"The aim of the contest was to demonstrate how charitable and community events could go better with riceworks® crisps in attendance," adds Ms. Ryan. "Contestants were encouraged to creatively explain and/or demonstrate, in words or video, How riceworks Better at their special event."
After significant debate, the judges announced September's winners, America SCORES New York.
Soccer Hall-of-Famer, ESPN personality and America SCORES supporter, John Harkes explains how "the after-school program uses soccer, poetry and community service to empower students in underserved communities." In a heart-touching video, Harkes relates their methodology. "Build teamwork with soccer; help children find their voice through poetry; and teach them to use that voice in their communities."
This local America SCORES chapter is based in East and West Harlem schools and they've decided on a truly special event for their $4,000 prize. "The culmination of our fall season is our Community Poetry SLAM" says Robert Brenner, the program's Development Associate "during which each of our students has the opportunity to perform original poetry before an audience of family, friends, school administrators and other community members… We would love to apply some of the award money to renting a professional City College New York theater more centrally located between our schools."
Great idea. But just how do riceworks better for this event?
For starters Mr. Brenner says "it shows our poet-athletes that healthy snacks can be delicious snacks, too!" That's a vital lesson in a community where nearly one in every three kids is obese. Free of trans fats and 33% lighter than regular chips, riceworks crisps will be that day's "energizer for our poet-athletes prior to their big performance." That's for starters. For the main course Mr. Brenner says riceworks crisps will provide creative inspiration. The kids will "write a poem describing which of the six flavors he or she would be and why."
This is just one of several recent riceworks contests which promotes good.
Concurrently there was a competition for spots in 'riceworks recipeworks.' It's a cookbook composed of recipes featuring riceworks crisps as an ingredient. "All of the recipes were submitted by riceworks devotees," says Ms. Ryan. "And all of the proceeds will go to worthy causes, like America SCORES." The riceworks recipeworks cookbook is being produced now and will be ready for purchase in time for the holidays.
These two riceworks contests came on the heels of Show Us Your Goodness.
"That started it all off last year" remembers Ms. Ryan. Charities were invited to explain why they deserved the Grand Prize of $20,000. Hence the contest title: Show Us Your Goodness. Entries required careful written submissions on behalf of the organizations. The contest was a huge success. Only half joking, Ms. Ryan says "You could say that Show Us Your Goodness actually made riceworks Better."
About Shearer's Foods, Inc.
A manufacturer of branded and private label snack foods including potato chips, tortilla chips and extruded snacks, Shearer's Foods, Inc. recently purchased Snack Alliance Inc. The firm's signature product, riceworks Gourmet Brown Rice Crisps, is a tasty and popular whole grain gluten-free snack that has won kudos from snack lovers in the United States, Canada and Great Britain. For more information about the product visit http://www.riceworks.com
###