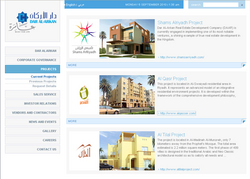 I ensured that strong relationships were maintained with other departments in a manner consistent with company policies
Montreal, Quebec (Vocus) September 7, 2010
Mr. Yves Mechaka, a thought leader in business management and operation, has just completed a two-year contract with Dar Al-Arkan, the largest publicly traded real estate development company in the Kingdom of Saudi Arabia.
Yves Mechaka was brought on board in April 2008, and was tasked with the goal of setting up the Treasury Department and to help assess, monitor, and manage multiple public Sukuk issues. He also led the management and supervision of all aspects of payments, cash flow, and investments.
"I ensured that strong relationships were maintained with other departments in a manner consistent with company policies," says Mechaka, who is a former member of the Financial Planning Standards Council of Canada (FPSC). "I also monitored compliance with investment policies and government regulations."
Dar Al-Arkan specializes in residential real estate, specifically the development of master-planned lifestyle residential communities. They offer developed land parcels, apartments, and villas. Based in Riyadh, Dar Al-Arkan was established in 1994 in response to the increased demand for quality housing in rapidly growing Saudi Arabia.
About Yves Mechaka
Mr. Mechaka has additional financial and leadership experience with Epycom Insurance Brokers Inc., Industrial Alliance Securities Inc., iForum Securities Inc., Desjardins Trust, and the Bank of Montreal. A finance professional with more than 25 years of expertise in business management, Yves Mechaka has a versatile skill set in investment and financial planning, cash flow management and implementation of processes, and experience as an entrepreneur. In his life, as well as throughout his impressive career, Mr. Mechaka has strived to abide by the following axioms: think positively, stay healthy, forgive and forget, and be happy.
Contact:
Yves Mechaka
Contact Yves Mechaka
# # #