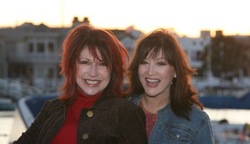 I help women to understand that they can create an Ageless Face when they use exercise to turn back the clock.
Long Beach, CA (PRWEB) January 11, 2010
A new radio show, The Ageless Sisters, brings the latest, cutting-edge beauty and anti-aging news, views, products and services to a global audience on Blog Talk Radio. http://www.blogtalkradio.com/theagelesssisters
The Ageless Sisters are beauty and anti-aging experts Cynthia Rowland and Jackie Silver. Rowland is the creator of the highly successful Facial Magic facial exercise program and Luscious Lips lip pump, which have been featured in the national media, including Rachael Ray, The Doctors, The Today Show, The View and more. Silver is the founder and president of AgingBackwards.com, author of Aging Backwards: Secrets to Staying Young (ISBN: 978-0981900902), the anti-aging expert on the syndicated television show, Daytime, and weekly columnist for The Tampa Tribune. Both are sought-after speakers and guests for TV, radio and conferences.
This innovative 30 minute series will run the first and third Thursday of each month beginning January 21st at 10:00 a.m. PST. The goal of the show is to bring health and beauty experts into conversation so that listeners can not only become more informed about the latest beauty and anti-aging products, services and procedures, but also be entertained at the same time. Rowland and Silver are at the forefront of "what's new" in anti-aging and beauty and so are their guests.
The collaboration developed from what Rowland refers to as "sistah talk" – the intimate sharing women do about their faces, their weight, the products they use, the procedures they question and how to always improve their lives.
Upcoming segments include beauty issues as well as discussions on diet, food and nutrition. Chats about ways to achieve overall wellness for maximum health are the ultimate desire of the show and it's not the same stuff you hear everywhere else.
The Ageless Sisters' first guest is Dimitri James of Skinn Cosmetics. The conversation will include packaging versus product and how companies can operate differently to offer better quality products for consumers. Upcoming guests include Andrew Ordon, MD from the very successful TV show The Doctors, Manuela Marcheggiani, cosmetic chemist and Shop NBC spokesperson from Toronto, Canada and Diane Ranger, mineral makeup matriarch and creator of ColoreScience, to name a few.
"I help women to understand that they can create an Ageless Face when they use exercise to turn back the clock. When I discovered that well-known beauty and anti-aging expert Jackie Silver regularly uses my Facial Magic program as one of her top anti-aging 'secrets,' I realized we would make a terrific team, " explains Rowland. "From our first meeting we began calling ourselves The Ageless Sisters and that grew into the idea for a radio show. We plan to develop our 'sisterhood' throughout the world on blog talk radio," continued Rowland.
"This is exactly what women want - the top experts' secrets, tips and shortcuts for looking and feeling young - and we're excited to put it all in one place for the global audience," adds Silver.
For more information on the Ageless Sisters, please contact J. Humphrey PR.
J. Humphrey PR
310.247.1127
###