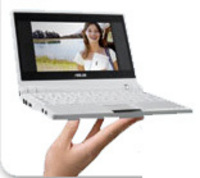 We are very pleased to once again lead the ePRO market with ePRO solutions on netbooks. We introduced patient reported outcomes on smart phones last year, and are proud to now deliver this new breakthrough product on netbooks this year.
Scottsdale, AZ (PRWEB) January 12, 2010
assisTek announces its newest innovation in ePRO solutions today, ePRO on netbooks (NetPRO). With NetPRO, assisTek once again leads the ePRO and clinical trials market with solutions that bring SIGNIFICANT advantages to study sponsors and patients enrolled in clinical trials. NetPRO combines the advantages of the large screen of a touch screen tablet, the data communications of a cell phone, and the low cost of a PDA.
The Netbook (NetPRO) ePRO Solution offers many benefits to clinical trial sponsors. First, the netbook offers the sponsor unequaled access to data. With assisTek's new NetPRO offering, all data gets transferred automatically through the local cell phone network. Clinical trial teams have vastly improved access to data compared to PDAs or Palm devices because there is no longer a delay between when patients enter data and when they actually transfer data (and they have remembered and have overcome their data transfer problems). 100% of data entered by patients is available to the study team at all times. This real time data access to 100% of the study data enables the study team to truly monitor compliance, assess study status, and manage the study real time.
Second, the netbook offers study sponsors outstanding data quality. Large screens with large font and buttons that are clearer and easier to use result in more accurate patient answers and higher quality data. Further, large screens enable all the relevant data on a single PRO concept to be captured accurately on a single screen. For example, the detail on a body pain diagram, a sleep scale, or a stool scale can be most easily seen on a larger screen, which enables the patient to easily and reliably enter data with accuracy and precision.
Third, it is not necessary to re-validate the original patient questionnaire with netbooks. Questionnaires can be fully supported without modification on a large screen: no need to shorten the text or break a question into several screens to fit on a small-screen device. Therefore there is no need to commission a validation study to ensure the psychometric properties of the original questionnaire have not been changed.
Fourth, the netbook makes patients and site coordinators happy. assisTek's netbook-based NetPRO is easier to use than a PDA because the patient does not need to set up telecommunications cradles or a landline connection. This means fewer things that can go wrong, resulting in fewer support calls. Fewer problems and support calls makes everybody happy.
The netbooks also offer overall lower cost. assisTek's netbook based NetPRO reduces the cost of trial implementation on several fronts. The cost of the devices is exceeding low, starting at $150, which is as affordable as PDAs or smart phones. Also, because data is transferred automatically, support costs are negligible and lastly, there is no need for a costly a validation study.
In addition, the Netbook (NetPRO) ePRO Solution offers many benefits to patients. First it offers, improved readability and usability. Netbooks have screens that are 4–5 times larger than Palms or PDAs. This significantly improves readability of questions and answer text and provides patients with a much more friendly and positive experience.
Netbook graphics are also easier to see and there are fewer screens. Larger diagrams and graphical scales can be much more easily seen and understood by patients than on PDAs. In addition, all relevant data on a single PRO concept can be captured on one large format screen; PDAs require the patient to navigate through many screens just to answer one question. A recent analysis for a sleep study shows that each patient uses approximately 500 fewer screens per month using a large screen for a daily diary than with a handheld device. Over the course of a study, patient burden is reduced by many thousands of screens.
Further, netbooks are lower burden for set-up and daily operation. Palm-based devices require patients to install, implement, and use a modem interface in their home on a daily basis to transfer the data from the device to a central data repository. Because patients participating in clinical trials often have significant other challenges, this requirement can be difficult, time consuming, and frustrating. Netbooks have built in cell phone cards, so no setup is necessary and patient response data is sent automatically over the local cell phone network without patient intervention.
"We are very proud to once again lead the ePRO market by offering ePRO solutions on netbooks," said Joy Hebert, Chief Operating Officer of assisTek. "As market leaders, we introduced the collection of patient reported outcomes on smart phones last year, and are proud to now deliver this new breakthrough product this year. Not only does this technology significantly reduce the work and hassle factor in collecting data from patients, it is also a beautiful product. It includes striking colors and photos not available in the older technologies offered by other vendors. "
About assisTek
assisTek is the global leader in ePRO systems and has revolutionized the process of collecting patient-reported outcomes in clinical trials by helping sites collect the data electronically through innovation, using touch-screens tablets, internet, Apple iPhones/smart phones, and netbooks. For more information about assisTek's ePRO systems or to schedule a free no-obligation demonstration, contact assisTek.
The assisTek team has more than 45,000 patients in more than 35 therapeutic areas at more than 4,500 sites across 5 continents. Visit assisTek online.
###