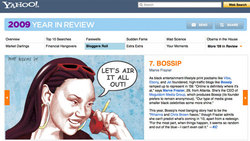 "As black entertainment-lifestyle print poobahs like Vibe, Ebony, and Jet foundered, high-traffic blogs like Bossip ramped up to represent in '09." Yahoo's 2009 Blogger's Roll List
New York (PRWEB) January 4, 2010
Moguldom Media Group, an innovative new media company, today announced the launch of a redesign for its flagship Bossip.com property, the leading celebrity gossip website serving African American consumers. Recently hailed by Black Enterprise magazine and Yahoo! for its leadership, the site's expanded content offerings and social media connectivity now provide its readers with an innovative online experience with a uniquely authentic African American sensibility. The announcement was accompanied by metrics showing rapid traffic growth for both Bossip.com and HipHopWired, the latest Moguldom property, which focuses on hip-hop music, politics, and culture.
The strong audience numbers for Bossip.com and HipHopWired emphasize Moguldom's unmatched success in delivering truly compelling and popular online experiences for African American consumers. Traffic for Bossip.com grew 100% year-to-year as of the end of November (Google Analytics) while achieving higher average pages per visitor and minutes per visitor than even long-established, well-financed competitors such as BET.com, Complex.com, and VIBE.com (ComScore). This strong performance hasn't gone unnoticed; a recent story in Black Enterprise magazine announced that "Bossip.com is leading the charge into the new digital era." Yahoo! ranked Bossip #7 in its Year in Review Blogger's Roll feature, commenting that "As black entertainment-lifestyle print poobahs like Vibe, Ebony, and Jet foundered, high-traffic blogs like Bossip ramped up to represent in '09."
From an advertiser's perspective, Bossip.com's impressive traffic figures are further enhanced by the quality of its readership: ComScore analytics reveal that the site's visitors are 208 times more likely that the average Internet user to be the first among friends to buy new technology gadgets, and 195 more likely to attend movies on the opening weekend.
Proving that Moguldom is not a one trick pony, HipHopWired has proven equally successful, reaching 2 million pageviews per month within its first 90 days. In all, Moguldom's properties now reach an aggregated audience of more than 2.3 million unique visitors and rising (Google Analytics). The company foresees that its traffic will double within the next 12 months, with a goal of reaching 5 million aggregated unique visitors by the end of 2010.
Moguldom's continued audience growth will be fueled in part by the recent redesign of Bossip.com. After two highly successful years with its previous template, the relaunched Bossip.com features new sections including celebrity picture galleries, user polls, content on sex and relationships, top ten lists, and a robust, comprehensive video section. Taking advantage of growing Web trends, Bossip.com also supports social media technologies such as Facebook Connect and Twitter, which allow viewers to make the site a seamless part of their social networking experience. The enhancements are intended both to reward Bossip.com's loyal readers and to further differentiate the site from a growing number of small-scale, mom-and-pop blogs in the market.
"By making significant investments in systematic innovation, we're continuing the evolution of Bossip as an online brand that takes over where Vibe Magazine, Jet, The Source, and Ebony Magazine left off in the print world. It's our intention to establish ourselves as the leading online African American publisher for the next 20 – 30 years and beyond," said Marve Frazier, CEO of Bossip.com and Chief Creative Officer of Moguldom Media Group.
Having proven repeatedly the effectiveness of its "secret sauce" for launching new online properties that resonate with African Americans, Moguldom will continue to build on its success. The company's next property, The Atlanta Post, will target higher income African Americans, rounding out a premium-branded portfolio that is quickly becoming the most comprehensive and compelling in the space.
About Moguldom Media Group
Moguldom Media Group is a new media company with a portfolio of popular niche blogs that includes Bossip.com, the leading celebrity gossip website serving African American consumers; HipHopWired, focused on music industry and entertainment news relating to Hip-Hop and R&B as well as politics; and mobile sites for Bossip.com and HipHopWired. The company will launch a business and news focused site targeted at higher-income African Americans, AtlantaPost.com, in January, 2010.
###