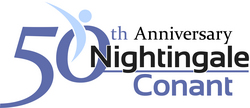 Nightingale-Conant has been called 'The World's Largest Library of Recorded Wisdom' because anyone can begin to change his or her life by listening to the ideas found within our powerful programs." Vic Conant, Chairman of Nightingale-Conant
Niles, IL (PRWEB) January 19, 2010
Nightingale-Conant, the pioneer of audio learning and the nation's largest producer of audio programs for personal and professional development, has upheld the same mission since it first opened its doors 50 years ago. From February 11, 1960, through today, its mission remains: To help people become their very best.
The roots of Nightingale-Conant's business model began in 1956. At that time, Earl Nightingale, owner of an insurance agency, left an inspiring audio message for his sales team. The message, called The Strangest Secret, was recorded for the public and sold more than a million copies, becoming the first record for the spoken word ever to receive a Gold Record award.
Lloyd Conant, the owner of a printing and direct response company at the time, heard Earl's powerful message. These two self-made men realized that thoughts and ideas could dramatically influence one's life as much as formal education and experiences could. In 1960, Conant and Nightingale formed the Nightingale-Conant Corporation.
"Nightingale-Conant has been called 'The World's Largest Library of Recorded Wisdom' because anyone can begin to change his or her life by listening to the ideas found within our powerful programs," Vic Conant, chairman of Nightingale-Conant states.
The first major full-sized audio program for Nightingale-Conant was Earl Nightingale's own Lead the Field. Even today, decades later, Lead the Field is consistently one of Nightingale-Conant's bestsellers.
Eighteen years after the company opened its doors, Denis Waitley became Nightingale-Conant's second author. Denis introduced The Psychology of Winning, which sold 1.5 million copies, making it the bestselling audio self-improvement program in history.
More importantly, Denis Waitley's accomplishment opened Nightingale-Conant's doors to authors and experts from every area of success. Today, operating out of the near-north Chicago suburb of Niles, Illinois, as well as out of Devon, England, Nightingale-Conant features more than 250 authors and more than 300 personal development programs.
For decades, people have come to Nightingale-Conant to become inspired and taught from some of the world's leading success and motivational authors — a virtual "Who's Who" of personal development. Names like Zig Ziglar, Tony Robbins, Brian Tracy, Napoleon Hill, Robert Kiyosaki, Wayne Dyer, Deepak Chopra, and Jim Rohn.
Nightingale-Conant's programs span the breadth of the self-improvement field, including titles on business strategy, wealth building, intelligence enhancement, health and wellness, spiritual growth, and sales training, giving customers a wide range of opportunities to improve their own lives.
For decades, people have realized they didn't have to go back to school, take an expensive class, or embark on years of training to learn to succeed and improve their career, relationships, personal wealth, and self-confidence. They could simply go to http://www.nightingale.com.
"Our customers get the benefit of absorbing seminar information worth hundreds, even thousands of dollars in the comfort of their own homes, offices, or cars, at a fraction of the cost of attending. Some long-time listeners report they have turned their commute into a 'Drive-Time University,' " Vic Conant states.
ABOUT THE COMPANY:
Nightingale-Conant has been helping people change their lives for the past 50 years. Nightingale-Conant remains the largest publisher of personal development audio programs designed to give anyone the skills, strategies, and motivation to improve his or her career success, wealth, health, spirit, intelligence, and more.
To learn more about any personal development programs that Nightingale-Conant offers, visit http://www.nightingale.com.
###