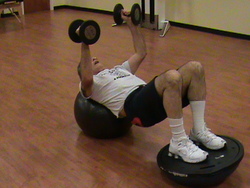 "In working with people in the gym and online I encourage them to visualize their goal and go after it. I found that the major key to success is realizing that you must feel free to make decisions that move you toward your goal", said Chiero.
Tampa, FL (PRWEB) February 10, 2010
One year ago Founder of the Training Genius, Jason Chiero launched his free fitness training website to give everyone a place to go for accurate and entertaining exercise information. Since then tens of thousands of visitors have frequented the site to take advantage of all of the resources made available to them.
Most recently Jason has released a new video series designed to help people maintain and pursue their health related Resolutions. The series is titled "Right Resolution" and focuses on developing the right approach for anyone who wants to maintain resolve and reach their ultimate goal. As a practicing personal trainer Jason takes a unique approach in his methods which is reflected in this series, "In working with people in the gym and online I encourage them to visualize their goal and go after it. I found that the major key to success is realizing that people must feel free to make decisions that move them toward their goal goal", said Chiero.
Initially this may seem like a strange place for people to start a fitness training regimen but it is critical. "In today's information age people are often overwhelmed with data about how they can change their body and improve their health. My experience tells me that someone who starts by understanding where hey want to go, and then empowering them to pursue their goal are the initial steps necesary for success", states Chiero.
In order to support visitors in their resolutions The Training Genius site makes many resources available. Resources that are directly related to the video series "Right Resolution" and other resources for anyone interested in changing the way they look and feel. The hallmark of the site is the video presentations that Jason provides for all visitors. When anyone visits the site they quickly notice that there is something for everyone. One of the most popular sections of the site is the Perfect Exercises page.
At the Perfect Exercises page visitors are able to view instructional video on how to properly execute exercises and stretches that are the foundation of any successful fitness training program. "Every day in the gym I see people working very hard. The problem is that they do not have a proper understanding on how to effectively and efficiently complete exercises and stretches. So I created this page to detail each part of each movement. When someone uses the proper technique, they reduce the possibility of injury and increase their confidence", states Chiero.
The Training Genius site also offers a unique service to its visitors interested in learning and developing their own customized cardio training program. At the site each visitor can gain instant access to a free Cardio Training Report, Cardio Training Template, and a complete Instructional Video on how to utilize the template. These are fantastic tools that will help the novice as well as seasoned exercises.
Far and away the most popular resource made available to all visitors is the free fitness training updates that are sent directly to any interested visitor. The goal of these updates is to provide answers to many of the questions that most people have about exercise. These updates are sent out 1-2 times a week. They are also designed to let everyone know about new exercises and new projects as they are added to the site.
Jason Chiero is a Certified Personal Trainer and Expert Fitness Blogger for The Training Genius and Health Central. With 14 years of professional training experience in the gym and on the athletic field his experience has enabled him to successfully help hundreds of individuals meet and exceed their goals. The development of The Training Genius site has allowed him to help improve the health and wellness of thousands more over the internet.
###