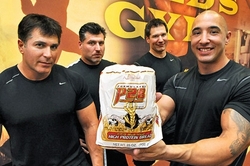 "It's the bread you want and the protein you need"
Syracuse, NY (PRWEB) January 1, 2010
When it comes to losing weight, the process is simpler than it seems: eat less and exercise more. Unfortunately, applying that concept can be very difficult to do, says P28 High Protein Bread co-developer Mike Christou. "P28 High Protein Bread—the perfect bread choice for anyone who is trying to get in shape or lead a healthier lifestyle—is a great-tasting, high-protein choice for losing weight and building muscle."
Mike, Chris and Peter Christou are three brothers who own a bakery in Syracuse, New York. The idea for the bread stemmed from the brothers' own desire to lose weight and get in shape without sacrificing great-tasting bakery foods. "Bread is normally the first thing you have to give up when you diet," explained Peter. "We wanted to develop bread that would be the staple ingredient of weight loss and fitness programs."
The brothers worked closely with their personal trainer, Billy Sullivan to understand the relationship between exercise and diet. "If you want to lose weight, you have to do more than hit the gym. You have to address nutrition," explained Sullivan, who developed P28 High Protein Bread with the Christou brothers. "It's the bread you want, the protein you need," added Chris.
The group worked for over a year developing the perfect recipe for bread that was nutritious, an excellent source of protein, great-tasting, and filling. According to Mike, some protein foods can be chalky or unpleasant, but P28 is real bread. It looks, feels and smells right. It toasts right. And it has the finest ingredients, including whey protein.
The Christou brothers all experienced significant results in their efforts to lose weight. "I was able to reduce my waistline from 50 inches to 34 inches by regularly exercising and by including P28 High Protein Bread in my diet. By increasing my consumption of high-quality protein, I was full and more satisfied during the day and did not feel as tempted to snack. When I had a piece of the P28 High Protein Bread with a meal, I ate much less," Mike explained.
Research from Harvard Medical has demonstrated that increasing muscle mass increases metabolism (the amount of calories you burn while at rest). "Increasing your muscle mass does not require becoming as big or defined as a body builder, but it does require additional protein, and P28 High Protein Bread is a tasty, wholesome way to add protein to your diet" says Mike. "Protein also helps protect and repair your cells and give you the long-term energy you need to get through your day."
###