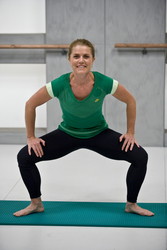 It seems we have succeeded in creating a healthy and positive atmosphere that helps our members achieve results
Wilmington, DE (PRWEB) January 4, 2010
The joy of Christmas and the many tasty calories that come along for the ride means, for a lot of people, that this years' New Year's Resolution will be the same as it was last year: "I want to get in shape... I want my body to be firm and fit... I want to lose 10 pounds..." With the resolution in writing, it´s decision time; and there are many paths to reach the goal. A healthier diet is a crucial part of the equation, however exercise not only gets you to your goals faster, it improves other aspects of your health as well.
Unfortunately, lacing up your sneakers and pounding the pavement just doesn't sound like fun when the mercury falls. Nor does riding a bike, swimming, hiking,... which is why many turn to health clubs. At a health club there are numerous activities to choose from and you can get the help and advice you need. A health club is however not a "one-size-fits-all" solution. Studies* show that the main reasons why people who want to get fit decide not to join a health club is because they think it is too expensive, it takes too long to go to a gym on a regular basis or they are uncertain whether they will feel comfortable in the health club environment. These are the exact reasons why Rasmus Ingerslev launched online health club Wexer (http://www.wexer.com).
"What we have done is "digitalize" what the best health clubs have to offer: Individual guidance, high quality exercise and a social environment that is conducive to a healthier lifestyle. A basic Wexer membership is free and you can train whenever and wherever you like, as long as you have a computer and access to the Internet. Your workouts are based on exercise videos, which users view directly from the site without wasting time on a download," explains Ingerslev. "We have an abundance of videos in different durations and various levels of difficulty to choose from- and all members receive individual exercise video recommendations according to their wishes, experiences and needs. In that sense our platform works as a personal trainer, ensuring that everyone receives the training that suits them best."
Wexer has been live for a little more than half a year and already has members from 90+ different countries. The site is built up similar to the most popular social networking sites which makes it very easy to use if you already use e.g. Facebook. Wexer does however have an extra healthy "twist", meaning that members can set a goal for the weight they want to achieve - or how many times a week they want to work out. To make the journey towards the goal more fun, members can challenge theirfriends to reach the same goals or join a group that has a similar goal.
"It is exciting to see how the social environment on Wexer has evolved. Members are exchanging everything from nutritional advice and healthy recipes to training tips and supportive comments. It seems we have succeeded in creating a healthy and positive atmosphere that helps our members achieve results," Ingerslev concludes.
*The report "Why people don´t join" published by The International Health, Racquet and Sports Club Association
###