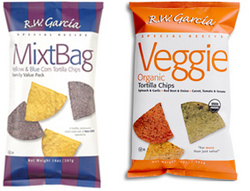 R.W. Garcia Special Recipe tortilla chips meet or exceed our GMO avoidance standards.
San Jose, CA (PRWEB) January 5, 2010
R.W. Garcia today announced that R.W. Garcia Special Recipe tortilla chips have been verified as meeting the standard for GMO avoidance by the Non-GMO Project. The Special Recipe line includes Flaxseed/Soy, USDA Organic Veggie, Blue corn/Flaxseed, and MixtBag® tortilla chips.
"Non-GMO Project verified products meet rigorous GMO avoidance practices, including testing of GMO risk ingredients." Said Megan Thompson Westgate, Executive Director, Non-GMO Project, "R.W. Garcia Special Recipe tortilla chips meet or exceed our GMO avoidance standards."
For R.W. Garcia, Non-GMO avoidance practices have been a part of our manufacturing process for the past 2 years. "In 2007, we instituted a strict GMO avoidance protocol with policies and procedures that adhere to both U.S. and European Union standards of allowable limits for GMOs. All ingredients for our products are sourced from suppliers who follow stringent GMO avoidance practices. Our Special Recipe line is no exception." said Robert Garcia, President/CEO for R.W. Garcia. "We are pleased to support the Non-GMO Project initiative and are continuing to work on Non-GMO Project verification for all of our product lines."
The R.W. Garcia Special Recipe line will feature the Non-GMO project seal in March 2010. The Non-GMO Project's seal helps consumers make informed choices by identifying products that have met rigorous standards for GMO avoidance.
R.W. Garcia is a recognized industry leader in the manufacture of organic, premium and all natural tortilla chips since 1982. With corporate offices in San Jose, CA and manufacturing facilities in California and North Carolina, the company delivers great tasting, organic, all-natural and imaginative flavor combinations in branded and private label offerings from coast to coast and world-wide. For more information visit http://www.rwgarcia.com or call (408) 287-4616.
The Non-GMO Project is a non-profit collaboration of manufacturers, retailers, processors, distributors, farmers, seed companies and consumers. Our shared belief is that everyone deserves an informed choice about whether or not to consume genetically modified products, and our common mission is to ensure the sustained availability of non-GMO choices. For more information, visit http://www.nongmoproject.org or call (909) 626-0809.
###