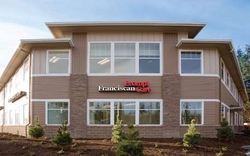 "Our mission is to serve the health care needs of our local communities and this pavilion is a great example of that commitment,"stated Dean Field, MD, Franciscan Medical Group president and Chief Medical Officer.
Tacoma, WA (PRWEB) January 7, 2010
Franciscan Medical Group (http://www.fmg.fhshealth.org), the largest physician-led, multi-specialty medical group in South Puget Sound, today announced the opening of Franciscan Medical Pavilion – Canyon Road. The pavilion offers a variety of health care services including urgent medical care for minor emergencies, family medicine, specialty care, digital x-ray, physical therapy and a retail pharmacy. The medical group partnered on the project with its affiliate, Franciscan Health System, with the primary goal of providing communities in the area with access to a wide variety of high quality health care services in one convenient location.
The new pavilion allows Franciscan to better serve the growing needs of communities in East Pierce County. "In the early planning stages, we learned that a large percentage of patients from this area were driving 10 miles or more to see a Franciscan Medical Group physician," states Dean Field, MD, president and chief medical officer of Franciscan Medical Group. "Our mission is to serve the health care needs of our local communities and this pavilion is a great example of that commitment."
Patient Experience:
The new pavilion is located at the corner of 152nd and Canyon Road in Puyallup. The facility is designed to create an optimal experience for patients; resulting shorter wait times, maximum comfort and streamlined workflow processes for medical staff that allows physicians to spend more quality time with patients.
These features are most evident in the Franciscan Family Medicine clinic, which provides separate hallways for staff and patients. Patients aren't exposed to the hustle and bustle of the back office operations.
When patients check-in, they are handed a card with a room number and a picture and they walk themselves to their exam room. The concept, called "self-rooming," removes the need to sit in the waiting room for an extended period of time. Each exam room has a digital scale, so weight and height are taken in complete privacy. Subdued lighting and white noise in the exam rooms and hallways provide both a soothing environment and help ensure optimal privacy for patients and physicians.
Community Services:
Franciscan Medical Pavilion offers a wide array of services to patients and businesses. The medical group clinics and services in the pavilion include Franciscan Prompt Care, Franciscan Family Medicine, Franciscan Specialty Care and digital x-ray. Franciscan Health System offers physical therapy services and a retail pharmacy on-site.
In addition to providing walk-in treatment for minor illnesses and injuries, Franciscan Prompt Care also performs drug testing for Department of Transportation employees; a service that is also available to local businesses. The physicians and professional providers also offer employment physicals, occupational health services and treatment for L&I related work injuries.
As part of Franciscan's integrated health care delivery system, pavilion patients have access to the right care in the right time. Physicians at the pavilion have a direct line to emergency room physicians at local Franciscan hospitals when patient emergencies exceed the scope of Prompt Care. Patients can be effectively triaged, then transported when ready. Furthermore, Franciscan offers 5 award winning hospitals in communities throughout the South Sound, with St. Clare Hospital and St. Joseph Hospital in close proximity to the medical pavilion.
Franciscan Specialty Clinic features some of the region's top specialists in neurosurgery, orthopedics, podiatry, rheumatology and nephrology.
Franciscan Physical Therapy services are provided by a Franciscan Health System board-certified orthopedic clinical specialist.
Franciscan Pharmacy will open soon and offers special services such as compounding, special orders, prescription refill orders by phone or email.
Franciscan Medical Group, established in 1999, is the largest, physician-led, multi-specialty medical Group in South Puget Sound. It includes over and over 300 physicians and professional providers and more than seventy clinic-based practices spread across King, Kitsap and Pierce counties. Franciscan Medical Group is affiliated with Franciscan Health System.
Franciscan Health System includes St. Joseph Medical Center in Tacoma; St. Clare Hospital in Lakewood; St. Francis Hospital in Federal Way; Enumclaw Regional Hospital; St. Anthony Hospital in Gig Harbor; Franciscan Medical Group; Franciscan Hospice House; and the Franciscan Foundation. In addition to medical, surgical and emergency care, the Franciscan organization is the leading provider of heart and surgical weight loss services in the South Puget Sound. Franciscan is affiliated with Catholic Health Initiatives, one of the largest non-profit health systems in the nation. Franciscan Health System is online at http://www.FHShealth.org.
Advanced Medicine, Trusted Care
###