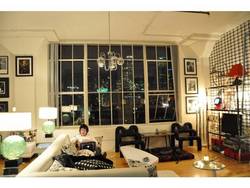 "This wall I like to call my Millenium Falcon wall," says Jane Wiedlin of the Go-Go's.
Los Angeles, CA (PRWEB) January 8, 2010
Looking for an extraordinary place to live? Consider the convenience of downtown loft living, then imagine a residential loft clad in science-fiction and celebrity. A famous rock musician is offering to rent her very unique living space where she has spent the last few years creating a fantasy dream home.
Actress and rhythm guitarist Jane Wiedlin, of the all-girl 80's punk rock band The Go-Go's, has been setting trends for decades in the music industry and on television. Her recent loft creation is no exception. It's a science fiction-inspired showcase of her new ideas and concepts, where ceiling space meets spaceship. Now she is offering a chance to live in her Downtown Luxury Penthouse Loft where the lucky resident can soak in the best views in the city through the large windows, enjoy the swimming pool, hot tub, sauna tub, upgraded kitchen, fireplace.
Starting with just a shell when she bought it, Wiedlin decided to live out her sci-fi fantasies and create a "Blade Runner-esque" place to live with her two dogs. The interior design is a fusion of mid-century modern, Asian and sci-fi movie style inspired by Blade Runner, Wiedlin's favorite movie. The entrance opens to a "Millenium Falcon" wall finished with vintage 70's mylar adorned with studs and seams to look like the hull of a spaceship. Another wall is dressed in wallpaper from the 1960's Jane Fonda movie Barbarella. Director Dino De Laurentiis saved a few rolls for Wiedlin to use.
The future renter will able to cook in a spacious kitchen designed in Chinese red and black with Vulcan hardware, and then dine on a custom made alienesque dining table with futuristic silver chairs. After dinner, guests can be entertained with cocktails resting on structural pillars that have been turned into the "Rings of Saturn Bar," custom metal work tables and shelves holding bar decanters and glasses featuring risque images.
The large living room features an incredible view of skyscrapers of Los Angeles (a spectacular nighttime view), and a working fireplace covered with river pebbles and sparkling grout. One room is designed as a dressing room with built-in shoji screen doors. The room also hides a tremendous amount of discreet built-in storage in many wall cabinets accented by dragon sconce wall lamps.
After the guests depart, one can head toward the sleeping loft via floating metal staircase of single-piece construction. It was made by the set designer of "Indiana Jones" movie. The sleeping area also has a city view, which can be closed-off with a dark curtain for a restfull night.
A double-size bathroom contains an ultra-large, high-tech shower module, which doubles as a transporter room with its many futuristic white and blue glowing lights, radio, bathtub, Jacuzzi whirlpool, foot massager, steam room and shower streams from top and sides. The bathroom is artistically tiled alien cityscape, and brings more built-in shelves and hidden storage, along with a cave-like alien cloud ceiling.
The building features a swimming pool, 24-hour guard, convenient parking garage attached, and stunning city views. Offered exclusively by LoftLivingLA.com, the experts in downtown live/work spaces, this extraordinary, one-of-a-kind celebrity loft is a once-in-a-lifetime opportunity. It is newly available for a 12 month lease , but this a loft that one can quickly fall in love with and be attached to for years to come. Pets are welcome. Located at 420 South San Pedro Street, this loft will soon become the final frontier of a sci-fi or Go-Go's fan. Prospective residents may make an appointment to see this property or check it out online.
For more information, call 877-4LA-LOFTs or visit us online at http://www.LoftLivingLA.com
For pricing, photos, and further details, visit the link below:
http://www.postlets.com/rtpb/3112847
###