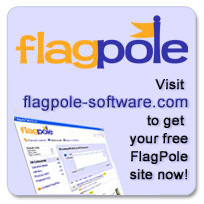 Companies can do it all with Flagpole: gather new product ideas, learn ways to improve services, find new markets to pursue, solve problems and support issues, engage employees, and get customers talking!
Pittsburgh, PA (PRWEB) January 13, 2010
It's been estimated that 80% of the solutions to a company's most pressing problems are already understood by its employees, customers, partners, suppliers, and other stakeholders.
So, why not just ask them?
Today, Flagpole Software introduced a product that allows you to do just that. Available as an affordable, easy-to-deploy "SaaS" application, Flagpole harnesses all the best that crowd-sourcing and open innovation have to offer. By making it easy for participants to submit and discuss ideas, Flagpole helps organizations turn user feedback into real results like cost savings and new products.
Companies such as American Airlines and their "5-Dollars-a-Day Savings Program," have long used a 'Business Challenge' model to solve operational problems. However, many companies see the daunting task of reviewing a large influx of ideas as a stumbling block to successful innovation. High costs, difficulty to implement and maintain an innovation program, and general lack of resources are also common reasons why organizations neglect this important function.
"In just a few minutes, groups can create a public or private Flagpole website, which will quickly become an interactive space for employee or customer suggestions," said John Gabrick, CEO of Flagpole Software. "They can begin collaborating on solutions right away, which will foster a straight-forward organizational approach to problem solving"
Espousing well over a decade of innovation best practices, Flagpole offers companies and teams all the tools they need to succeed in an easy-to-use, inexpensive web application. Flagpole boasts a feature-rich, intuitive user experience for potential innovators. Its clean layout can be easily configured and branded to reflect a group's unique identity and messaging. Users feel as if they're responding directly to a company's own public website or internal corporate intranet site.
Submissions are managed with dynamic "Categories" and solicited with laser-focus using "Challenges," a feature which allows managers to pose specific questions to the population. Everyone is empowered to collaborate with comment threads and by voting up ideas in real time. Flagpole creates an engaging web experience not unlike a social networking site with an innovative purpose: Ideas are user-generated and crowd-validated.
Flagpole also provides great business functionality like dashboards and the ability to collect project and ROI data on each submission. This allows organizations to evaluate ideas based on their benefit and potential value to your company – a very powerful feature.
One of Flagpole's most remarkable assets is flexibility. It can be used by just about any organization, across any discipline, to manage all kinds of feedback. The application can quickly be deployed as a short-term solution, like capturing feedback for a one-off project or event, or as the foundation for a long-term, dynamic corporate innovation program. Companies can do it all with Flagpole: gather new product ideas, learn ways to improve services, find new markets to pursue, solve problems and support issues, engage employees, and get customers talking!
Now more than ever, the concept of garnering innovations from employees or customers – rather than outsourcing the function – just makes sense. In a tightening economy, it's critical for organizations to leverage this often untapped resource since growth, success, and longevity are all strongly tied to innovation. "Why pay consultants for these solutions when they are ripe for the picking within your own group?" stated Gabrick. "Flagpole is the key to helping companies realize cost savings and improvements across the enterprise."
To learn more about Flagpole's easy to implement feedback and innovation software, or to try it at no cost, visit http://www.flagpole-software.com.
###