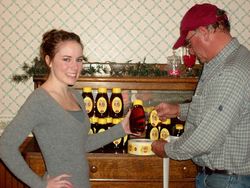 A lot of that area was farmed by Italians. There also was at one time a German camp of labor workers. Some of the Germans were brought from Ellis Island to do some of the farm work. It's interesting because we're German heritage and everything we do is in German, our signs are in German. It's kind of interesting how it all comes around
Madera, CA. (Vocus) January 9, 2010
Home Grown Cellars, a local farm located just outside the city limits of Madera, has a new product that is hitting the shelves now.
The farm, which specializes in pomegranate products, recently unveiled their new Pomegranate Honey. "There are all kinds of honey. Clover honey, orange honey," said Alex Lehman, who owns and operates Home Grown Cellars with his wife Jackie. "Bee keepers put their bees out to pollinate in different fields. Pomegranate is no different. So we set our bees out to pollinate, they gather the pollen from the flowers of the pomegranate; they take it back and make honey in the hive. From that, we extract honey from the hive, bottle it and label it and put it on the shelf for others to enjoy," he said.
The exclusive use of pomegranate nectar gives the honey a darker color and a caramel like texture to it. Plus the infusion of pomegranate adds some health benefits as well. "Because of the pomegranate itself adding such high antioxidants, my particular belief is that this pomegranate honey has a superior quality in terms of taste health benefits," said Lehman.
This will be the first full run of the new honey. Lehman said they produced a limited quantity last year as an experiment. The positive feedback prompted a large run of over 2,200 pounds of the natural sweetener this year. "People said they loved it. They were putting it on their toast in the morning and their snacks in the evening," Lehman said.
Even though the honey has not yet hit the shelves, Lehman said he's already receiving calls about the product. "We've had calls from a couple of grocery stores who want to sell the product on their shelves," he said.
The new honey is only one of the several pomegranate products offered at Home Grown Cellars. "We have pomegranate soaps which are natural product soaps we make on property, pomegranate oil we extract form the seeds. We have dried seeds available, dried seed meal available," said Lehman. Other products include pomegranate jellies and jams as well as Zander Nuts which are roasted and candy coated almonds.
Perhaps the most popular product is the Home Grown Cellars Pomegranate Juice. Available in pint sized containers, gallon jugs or even bulk sizes, the farm produces about 2,500 gallons of juice a day from September through generally Thanksgiving.
Pomegranates have some of the highest levels of antioxidants, known for preventing cancer. It has several other benefits as well, according to Lehman. "Studies show that drinking pomegranate juice aids in fighting multiple types of cancer; keeps PSA levels stable; protects the neonatal brain, your arteries, and your teeth; prevents osteoarthritis and Alzheimer's Disease and lowers blood pressure and cholesterol."
Unlike most farms, Home Grown Cellars offers tours of their property. The trolley takes guests throughout the orchard, showcasing the pomegranate trees while they learn the history of the farm and the region and get to see how the pomegranate goes from fruit to juice. "Home Grown Cellars exists to help educate the general public about San Joaquin Agriculture and life on the farm. We promote Local Farm Direct Produce sales and wholesome country welcome," said Lehman.
Guests can also browse the country store, or come back during the fall to pick their own apples, visit the pumpkin patch or see the giant sunflowers.
The farm itself has a long history, as it was started by the Dooley family over 80 years ago. "A lot of that area was farmed by Italians. There also was at one time a German camp of labor workers. Some of the Germans were brought from Ellis Island to do some of the farm work. It's interesting because we're German heritage and everything we do is in German, our signs are in German. It's kind of interesting how it all comes around," said Lehman.
One of the first sights guests are greeted by on the grounds is an 80 year old orange tree that has grown to massive dimensions. "Most everybody who comes here, including a lot of Canadians and English, admire that tree. They have never seen an orange tree that big," Lehman said. The tree is over 55 feet tall with a diameter of more than 25 feet.
To learn more about Home Grown Cellars, or to book a tour, visit them online at http://www.homegrowncellars.com. To learn more about attractions in and around Madera County: California's Gateway to Yosemite, go to http://www.yosemitethisyear.com, or http://www.facebook.com/yosemitesierra.
###