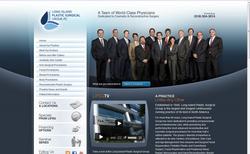 Plastic Surgery Through the Ages
Garden City, NY (Vocus) January 9, 2010
The Long Island Plastic Surgical Group, PC is truly a plastic surgery practice unlike any other. Established in 1948, the facility has grown into the largest of its kind anywhere in the United States. The practice, which includes 13 reconstructive and cosmetic plastic surgeons serving New York City , offers a range of aesthetic enhancement and reconstruction procedures to patients from around the world. Now, the Long Island Plastic Surgical Group, PC (LIPSG) is re-establishing its presence on the worldwide web, and it's doing so by utilizing the latest internet trends and technology to provide visitors with an expansive virtual tour of its facilities. The website represents the practice's new way of illustrating the services it offers and its philosophy of care. Along those lines, LIPSG plastic surgeon Matthew Kilgo, MD says one of the most important aspects of plastic surgery is to constantly be moving forward with the latest advances in treatment. "I think what makes the Long Island Plastic Surgical Group cutting-edge is the surgeons themselves. We pride ourselves on education, attending all of the meetings where you learn about the newest and most innovative techniques. We represent the entire spectrum of plastic surgery."
The new LIPSG website is designed to give users a thorough education on every aspect of the practice. At more than 150 pages in length, the website details the history of the facility, outlines detailed biographies of its core group of surgeons, provides meticulous descriptions of nearly every procedure offered, and gives web visitors the latest updates on practice news and upcoming seminars. The Group's expertise is reflected in its nine Centers of Excellence: Skin Care and Age Management; Non-invasive and Surgical Facial Rejuvenation; Pediatric Plastic and Craniofacial Surgery; Facial Reanimation and Peripheral Nerve Repair; Microsurgery and Hand Reconstruction; Breast and Body Cosmetic Surgery; Burns and Complex Wound Management; Breast Reconstruction Surgery; and Post-Weight Loss Cosmetic and Reconstructive Surgery.
Working with Rosemont Media®, a plastic surgery website design firm based in San Diego, LIPSG has also incorporated a variety of multimedia options and easy access to its social media networks, such as Facebook and YouTube. With its online video component, LIPSG gives visitors an opportunity to watch informative documentaries, as well as to hear patient stories and to see the extensive coverage of the Long Island Plastic Surgical Group, PC that was featured on the Discovery Health channel. Plus, the website takes visitors on a stroll through time with a section devoted to "Plastic Surgery Through the Ages", offering tips on the most popular treatments available, including breast augmentation on Long Island.
With its new website, the Long Island Plastic Surgical Group hopes that its innovative methods of communicating with the public will convey its commitment to excellence in plastic and reconstructive surgery. LIPSG plastic surgeon Leland Deane, MD says excellence is the only option. "Plastic surgery has been a field that survived, primarily, because we could do things better than anyone else. And the challenge for the Long Island Plastic Surgical Group will be to find ways, and adapt, and continue to do things better than anyone else."
About Long Island Plastic Surgical Group, PC
For more than 60 years, Long Island Plastic Surgical Group has been dedicated to providing compassionate and comprehensive care, while pioneering and performing the most advanced reconstructive and cosmetic surgical procedures for more than half a million patients.
The practice operates a fully equipped surgery center in its Garden City, Long Island facility with new operating rooms accredited by the American Association for Accreditation of Ambulatory Surgery Facilities, Inc. In addition, LIPSG founders established and have directed the plastic surgery residency program at Nassau University Medical Center since 1954, training the doctors of tomorrow in the latest aesthetic and reconstructive surgery techniques. LIPSG offers a broad range of procedures, including reconstructive options such as burn and wound repair, treatment for facial paralysis, hand reconstruction, limb replacement, and breast reconstruction; and aesthetic enhancement procedures such as tummy tuck surgery, surgical and non-surgical facial rejuvenation, laser skin resurfacing, and liposuction on Long Island.
For more information on the Long Island Plastic Surgical Group, PC, contact the practice at any of its three facilities: 474 Montauk Highway, West Islip, NY 11795 - (516) 504-3014; 999 Franklin Avenue,
Garden City, NY 11530 - (516) 504-3014; or 960-A Park Avenue, New York, NY 10028 - (516) 504-3014. http://www.lipsg.com.
###