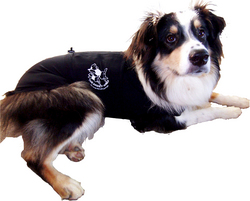 "The Anxiety Wrap had not been on his body five minutes when Scooby Doo was a changed man — and I was a true believer!"
Huntington, IN (PRWEB) January 12, 2010
The owners of The Anxiety Wrap announce they have reduced the retail price to $35.99 for all 11 sizes from the previous price range of $64.99 to $74.99. They have also launched a new web site at http://www.anxietywrap.com. The Anxiety Wrap is a gentle, non-pharmacologic way to lessen/end thunderstorm fear, separation anxiety, constant barking, fireworks/loud noise fear and many other issues that stem from fear, anxiety or stress. It's also been shown to calm and focus hyperactive dogs and help insecure dogs feel more confident.
The Anxiety Wrap, launched in 2001, uses gentle "maintained pressure" and acupressure to relieve stress and end/lessen fears and anxieties in dogs. It was invented by a 25-year professional dog trainer, Susan Sharpe, APDT, CPDT, owner of Animals Plus, LLC, and co-owner of Canine Companion dog training center, after studying Dr. Temple Grandin's concept of "optimal pressure" from her work that revolutionized the cattle industry, in addition to the methods of Tellington Touch and Acupressure. It invented the category of Pressure Wraps and is still the only patented Pressure Wrap in the pet industry category.
Tracie Hotchner, pet expert, author of THE DOG BIBLE and THE CAT BIBLE, and host of weekly radio shows on Sirius/XM, WLIU, and WOR710, recently experienced how The Anxiety Wrap works first-hand. Ms. Hotchner explains, "One not-so-fine day one of my very own dogs, Scooby Doo, woke up and was suddenly thunderstorm phobic. When the thunderstorm rolled in, Scooby came over to me trembling and panting and then he tried to squeeze underneath my desk. He's over 100 lbs. so there is not room for him and my legs under there! I quickly put a dropper full of Stress Stopper from Spirit Essences in his mouth and I slipped him into the Anxiety Wrap. The Anxiety Wrap had not been on his body five minutes when Scooby Doo was a changed man — and I was a true believer! Happy ending: Scooby Doo slides into his Anxiety Wrap at the least sign of a noisy storm and is a much braver boy."
Susan Sharpe stated the desire to reduce the price is a response to many consumer and store owner requests over the years and required an extensive search for a manufacturer. "After much searching and diligence, we are fortunate to be working with a new manufacturer who will deliver the product quality we require and the larger quantities we've desired to allow us to expand into more outlets. Our mission has been, and always will be, to increase the well-being and quality of life for as many dogs possible," said Ms. Sharpe.
The Anxiety Wrap has been featured on NBC's "Today Show," Women's Day magazine, The Boston Globe, the World-Herald, and it was introduced at the American Veterinary Medical Association Convention by Dr. Barbara Simpson, MS, PhD, DVM, Dipl. ACVB, a renowned animal behavior specialist in 2002. The Anxiety Wrap has received positive reviews in major rade magazines such as Whole Dog Journal, Animal Wellness, Fido Friendly, and The Bark. The Anxiety Wrap is available at http://www.anxietywrap.com, 1-877-652-1266, and is sold through catalogs such as sitstay.com, puplife.com, kvvetsupply.com, In The Company Of Dogs, and dogstuff.com as well as stand-alone pet stores across the United States. It is used by pet owners, veterinarians, trainers, behaviorists and Tellington Touch Practitioners in the U.S., Canada, Australia, U.K., Spain, South Africa, Mexico, Japan and Hong Kong.
# # #