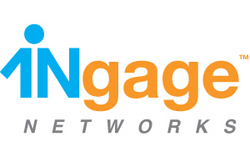 Naples, FL (PRWEB) January 12, 2010
Neighborhood America, an award-winning enterprise social media and mobile marketing solutions provider, is now INgage Networks. The name change strengthens the company's position in the global marketplace and better reflects the advancements of its offerings over the past ten years.
'Ten years ago, the name Neighborhood America conveyed who we were, as our platform enabled tight-knit communities to be created online, and unified our country with a collective voice during 2001 and beyond,' said Kim Patrick Kobza, co-founder and President of INgage Networks. "But with the growing demand for enterprise social media solutions both at home and abroad, it became apparent that the name was limiting. As the industry evolves, so too must our company."
True to form, the company turned to its employee network to help with the renaming. Based on their collective feedback - which built upon the company's use of the 'Engage. Listen. Act.' tagline over the last five years - the name reflects the company's mission to help organizations engage their networks of employees, customers and partners to drive value.
To learn more about the evolution of the company, watch the video above 'In with INgage Networks' or read the blog post 'Big Changes in the Neighborhood.'
About INgage Networks
INgage Networks (formerly known as Neighborhood America) is an award-winning provider of enterprise social media and mobile marketing solutions for businesses and government agencies. With more than a decade of experience serving some of the world's largest brands - including adidas, Crispin Porter + Bogusky and Microsoft - the company's SaaS offerings and strategic consulting services help customers to create business value through their networks of employees, customers and partners. Awards include the 2009 and 2008 SIIA CODiE Award for "Best Social Networking Solution" and the global Mobile Marketing Award for "Best Use of Marketing, Cross-Media integration." Visit http://www.ingagenetworks.com.
###