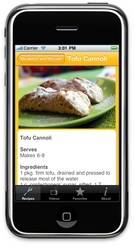 " I'm a fan. I bought your book. Watch the podcasts. When you say delicious, you mean DELICIOUS!"
Portland, ME (PRWEB) January 13, 2010
All Art Media, Inc. today announced the launch of VegEZ for iPhone and iPod Touch. Created by Delicious TV, VegEZ features 50 of Delicious TV's newest and most popular recipes along with 32 companion videos that offer step-by-step instruction. meal variations, and practical tips along with ingredient lists for shopping, bookmarked favorites, and email links to share recipes with friends.
Regular viewers say one of the best things about the show/podcast is that the visuals give them a feel for Toni's easy, flexible style of cooking and makes it easy to enjoy the benefits of vegan food without the trouble of completely changing the foods they already eat. One viewer wrote, "I'm not a vegetarian, but if I keep making your delicious recipes, I might end up one – at least a few nights a week." Easy to make, delicious to eat – what could be better?
For today's home cook with a full time schedule, VegEZ provides easy, fun, family-friendly meals that are healthier, greener, and always delicious. Watch quick prep meals and have the recipes at your fingertips.
MORE COMMENTS FROM VIEWERS:
" I'm a fan. I bought your book. Watch the podcasts. When you say delicious, you mean DELICIOUS!"
"I love your recipes and your show! Thank you so much for your wonderful contribution to health, happiness, and our environment."
"Your show is great, my husband loves the food I made from it and didn't realize it was veggie!"
"I just stumbled on your great cooking show as I was surfing through the channels. I will definitely return. I was a vegetarian for 15 yrs & watching your show made me wonder why I ever stopped."
"What a delight to discover your recipes and your excellent show."
All Art Media, Inc. is the parent company of Delicious TV and creator of Delicious TV's Totally Vegetarian, a highly rated public television show with a 5 star podcast Delicious TV Veg that was just nominated for two Tasty Awards. With millions of views, it's consistently found in the top 10 on iTunes.
All Art Media, Inc. collaborated with Rhode Island application developer, Cronk Software to produce the VegEZ iPhone app. "It's been a wonderful experience working with Cronk. We seamlessly worked together and created a really delicious, well-oiled application," says executive producer Betsy Carson.
All Art Media is also the production company for a comic web series Willard Beach, The Real Story and is currently developing an additional two new vegan web series for 2010. Stay tuned!
###