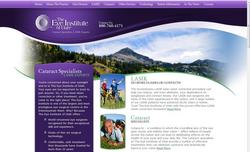 These surgeries—performed by some of the top surgeons in the world—will make a dramatic impact for our patients, who otherwise couldn't afford to have their vision restored
Salt Lake City, UT (Vocus) January 13, 2010
Recently, world renowned cataract surgeons Robert J Cionni, MD (SLC, UT), Richard J. MacKool, MD (New York, NY), Takayuki Akahoshi, MD (Tokyo, Japan), Ivan Ossma, MD (Cali, Colombia), and Yuri Takhtaev, MD (St. Petersburg, Russia) performed cataract surgery at The Eye Institute of Utah to demonstrate the latest techniques and lens implants in sight restoring eye surgery. On October 23rd, 2009, several very fortunate patients who had been selected to receive the latest cataract lens implants (IOLs) in Salt Lake City at no charge, were given cataract surgery to improve their vision. These surgeries were broadcast live to thousands of cataract surgeons convening in San Francisco for the American Academy of Ophthalmology conference. The procedures were also recorded and viewed in several areas around the world in an effort to provide better education and training for surgeons. Educational programs such as these can lead to better outcomes for patients.
The cataract surgeries featured state-of-the-art, premium lenses implanted in patients who would not typically be able to pay for them because they do not have insurance or have been affected by the recent economic downturn. One of these patients is 44 year old Mike Tanner. Tanner noticed his vision wasn't what it used to be so he headed to his eye doctor only to discover he has cataracts. Doctors suspected the cause to his cataracts might be his asthma medicine which contains steroids. As a single father with no insurance, Mike's outlook for finding a solution for his poor vision was grim. Knowing of his situation, our Salt Lake City cataract surgeons at The Eye Institute of Utah selected Mike as one of the recipients to receive cataract surgery with the ReSTOR® lens implant at no cost.
Three types of advanced corrective lenses, the Acrysof IQ IOL, Acrysof ReSTOR IOL and the Acrysof Toric IOL, were used to replace patients' hardened cataract lenses during this live surgery event: the presbyopia correcting lens (ReSTOR), which corrects for near, intermediate and distance vision, was implanted in three (3) patients. The benefit in using these new lenses over standard cataract lenses is that standard lenses only address distance vision and patients are still dependent on reading glasses. The Toric lens corrects for astigmatism, an impairment that results in blurred vision, was also implanted in several patients who need significant astigmatism correction. Astigmatism has previously been difficult to treat, especially in cataract patients.
"These surgeries—performed by some of the top surgeons in the world—will make a dramatic impact for our patients, who otherwise couldn't afford to have their vision restored," said Dr. Robert Cionni, Medical Director for The Eye Institute of Utah. "Now they will not only receive treatment for their cataracts, but they will also be receiving the best of what's available from world class surgeons right here in Utah."
The October 23rd worldwide conference event broadcast the surgeries on live television and in HD. Some of the patients selected had already had surgical treatment on their first eye in preparation for the live event and the improvements to their vision were already beginning.
About The Eye Institute of Utah
Known throughout the Intermountain West as a leader in the eye care industry, The Eye Institute of Utah specializes in cataract intraocular lens (IOL) implant surgery, cosmetic surgery and refractive surgeries including LASIK in Salt Lake City and refractive lens procedures (using ReSTOR, Crystalens, and Visian ICL). The Eye Institute of Utah also cares for and treats general ophthalmology needs including glaucoma, dry eye, retina and macular degeneration, and corneal transplantation. Established in 1980, as the first and largest office-based eye surgical center in Utah, The Eye Institute is based in Salt Lake City, Utah, with a satellite office in Rock Springs, Wyoming.
To learn more about the Live Surgery event conducted at The Eye Institute of Utah, contact Helen Sikes at 801.266.2283 or hsikes(at)theeyeinstitute(dot)com.
###