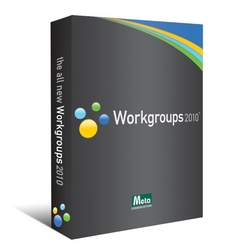 Workgroups 2010 provides the built in integration with AutoCAD so that designers can access their project and design information right from within their AutoCAD application
Iowa City, IA (PRWEB) January 13, 2010
MetaCommunications today announced the immediate release and availability of the Workgroups 2010 Package 162.3 upgrade, featuring built-in support for AutoCAD products.
The new release continues to extend the capability of Workgroups 2010 within technical design groups. "We have a number of design teams using AutoCAD across a range of industries from Engineering and Architecture to Manufacturing, Media, and Entertainment. These teams needed a better way to work through their projects with each other and with their clients. Workgroups 2010 provides the built in integration with AutoCAD so that designers can access their project and design information right from within their AutoCAD application, documents can easily be routed for review across teams and with customers, and everyone can stay on the same page with an integrated automatic workflow engine."
The built in integration with AutoCAD provides designers with a built-in interface for interacting with their Workgroups 2010 project workflow, management and collaboration systems. From within the familiar AutoCAD environment, designers can look up digital resource information, drill down to project information, and see information on placed files. Alternatively, designers working in Workgroups 2010 can quickly find their files by project, location, or even by currently assigned activity. With Workgroups 2010, AutoCAD has the team collaboration, workflow, and project management tools that allow design teams to work together at maximum efficiency while keeping everyone on the same page.
Availability
Workgroups 2010 with built-in support for AutoCAD products is available for immediate download from the download area on the MetaCommunications website (login required).
Demonstrations and Inquiries
Persons interested in learning more about Workgroups 2010's AutoCAD integration or viewing a live demonstration can contact MetaCommunications Sales (sales@meta-comm.com) or the press contact indicated below.
About Workgroups 2010
Workgroups 2010 is a tightly integrated collaborative process and productivity management suite for marketing, advertising, creative design, packaging and prepress. It is comprised of four key modules: Virtual Ticket, Approval Manager, Digital Storage Manager, and Job Manager. Workgroups 2010 is available for installation in-house or hosted online through Workgroups.com.
About MetaCommunications
MetaCommunications develops workflow and collaborative productivity solutions that help marketing, creative design, packaging and prepress workgroups around the world be more productive. With over 1000 customer sites worldwide, MetaCommunications has the solid experience and range of solutions to quickly help creative organizations take their productivity to the next level through improved processes, workflows, and communications. For more information about MetaCommunications, please visit http://www.meta-comm.com.
Press Contact
Robert T. Long
Executive Vice President
MetaCommunications
Phone: (319)337-8599 ext 180
Fax: (319) 337-3635
Web: http://www.meta-comm.com
###