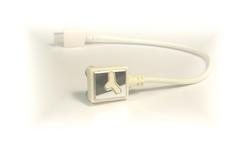 Urbana, IL (PRWEB) January 14, 2010
Ambient Corporation, developer of the innovative muscle interface known as the Audeo™, today announced the general availability of a development platform to allow researchers to evaluate the core sensor technology of the Audeo™. This technology enables a person to directly utilize the minute neurological signals which normally control the muscles, and was designed to be so sensitive as to pick up activity without the need for visible movement.
First demonstrated in early 2005, the Audeo™ was originally developed to non-invasively tap into the speech muscles around the neck as an assistive communication technology for those who have lost the ability to move or speak. While Ambient completed a limited beta release of their AudeoBasic™ assistive communication system last year, they continue to get a flood of inquiries regarding other applications of the technology. In 2007, Ambient did a keynote demonstration at National Instruments NI Week of its "Mind-Controlled Wheelchair", an electric wheelchair controlled only by the Audeo™. In 2008, they demonstrated the world's first voiceless cell phone call at the Texas Instruments Developers Conference. These novel demonstrations have stirred quite a bit of interest in the company, and it is their hope that the release of this development kit will encourage others to explore their own applications.
The AudeoSensor™ Development Kit consists of a miniature skin sensor attached to a control module, which together have two modes of operation. The first is a simple biofeedback mode, which gives visual and vibration feedback based on the strength of the user's muscle activity. The second mode provides a Bluetooth wireless interface to the sensor, making the raw data stream as well as the control module's feedback and speech synthesis capabilities accessible from any Bluetooth-enabled device. The full feature set can be found in the manual. The kit is currently offered for $2000. For more information on the AudeoSensor™ Development Kit, please contact Thomas Coleman at thomas (dot) coleman (at) theaudeo (dot) com.
###