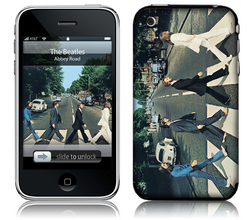 "The Beatles are the biggest rock band of all time, and they are still as hot today as ever" Jed Seifert, Executive VP , MusicSkins LLC
Las Vegas, NV (PRWEB) January 15, 2010
MusicSkins LLC, a leader in music-related premium vinyl skin products for iPods, MP3 players, cell phones, PDAs, laptops, Netbooks, gaming devices, external hard drives and many other devices revealed a licensing deal that grants MusicSkins the right to offer skins featuring the Beatles logo and cover art from seven of the band's top selling albums for popular personal devices.
MusicSkins debuted their unique new line of Beatles personal device skins at the 2010 International Consumer Electronics Show (CES) in Las Vegas from January 7-10. The new line of skins features the Beatles classic logo and cover art from the best-selling albums "Abbey Road", "Yellow Submarine", "Sgt Pepper's Lonely Hearts Club Band", "Rubber Soul", "Let It Be", "With the Beatles", and "Hard Day's Night".
"The Beatles are the biggest rock band of all time, and they are still as hot today as ever – the recently released re-masters of their CD's shot to the top of the charts, and 'The Beatles Rock Band' game was the most anticipated game release in years," commented Jed Seifert, MusicSkins LLC Executive Vice President. "We couldn't be more excited about offering skins that showcase the Beatles logo and the iconic cover art from some of the most important albums that helped shape the whole rock music genre."
The license agreement between MusicSkins and Apple Corps was arranged through MusicSkins partnership with Live Nation, the largest producer of live concerts in the world. Through Live Nation, MusicSkins has gained rights to market skins featuring many of the largest acts in the music industry, including Madonna, AC/DC, Coldplay, Aerosmith, Black Eyed Peas, Mötley Crüe, Jay-Z, Lynyrd Skynyrd, The Who, Kiss, Lil' Wayne, Ozzy Osbourne, John Lennon, Shakira, Sex Pistols and many more.
MusicSkins' popular line of personal device skins features musicians and bands; clothing brands such as Rogue Status, Skelanimals, Mishka, Baby Cakes, Rockett Clothing; and artists such as explodingdog, Derek Hess, Alex Pardee, Dave White, Benny Gold and Cope 2.
The new Beatles skins will be available for all of the most popular MP3 players, cell phones, PDAs, laptops, and Netbooks. Like all MusicSkins products, these skins are made of premium quality vinyl that provides a high-gloss photo grade finish and durable, scratch-resistant, anti-UV coating. Patented 3M air release adhesive technology ensures that they apply easily, evenly and bubble-free.
MusicSkins will be exhibited at CES in Las Vegas Convention Center this past week. All MusicSkins products, including the new Beatles skins, are available online at http://www.MusicSkins.com.
About MusicSkins:
MusicSkins is a leading provider of premium quality illustrated vinyl protective coverings known as "skins" for personal electronic devices. MusicSkins initially offered a product line of skins featuring music-industry related images of artists, bands, musicians and DJs to appeal to music fans. Its innovative business model affords record companies, clothing brands, artists, and corporations a unique mechanism to connect with a broad-based consumer audience. The company expanded its focus to offer a wide range of popular culture imagery in its skins catalog and enhanced skin personalization with its new Customizer tool online at http://www.MusicSkins.com/Custom, so that there will be a MusicSkin to suit every taste. For more information visit http://www.MusicSkins.com or call 646-827-4271.
Press Contact:
Belinda Banks
SSPR
609-750-9110
# # #