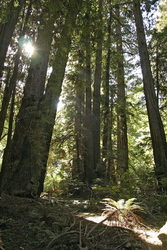 More and more people are turning to Nature for relief from life's stresses, and for a sense of real belonging.
Los Angeles, CA (PRWEB) January 13, 2010
The world's Pantheists are protesting as the Vatican appears to be launching an all-fronts attack on Pantheism - the belief that Nature should be the focus of our spiritual life. Vatican media have slammed the movie Avatar for promoting Pantheism, only a few days after Pope Benedict XVI attacked Pantheism in his New Year's message for World Peace.
Pantheists focus on religious reverence for Nature and the wider Universe rather than for any supernatural God or gods. Concern for Nature is a central ethical concern, and Nature is also viewed as a major source of spiritual comfort.
"It seems like the Vatican sees Pantheism as a growing threat," said Dr Paul Harrison, president of the World Pantheist Movement. "Maybe that's because the whole world is undergoing a tremendous shift in values because of climate change and disappearing species. As our destruction of Nature rebounds on us, people are realizing that Nature needs to be a central value in our lives. More and more people are also turning to Nature for relief from life's stresses, and for a sense of real belonging."
Dr Harrison welcomed the Vatican's gradually increasing concern for the environment. "Catholics are the world's biggest religious group, so it's good that Rome now recognizes respect for nature as an important moral value. But the message will always be blunted as long as life after death and God's planned destruction of earth, is placed above the value of life on this earth. Give us a break from Armaggedon, so we can get on with saving this beautiful planet of ours."
The Vatican newspaper L'Osservatore Romano devoted three articles to Avatar, and said that the movie "gets bogged down by a spiritualism linked to the worship of nature."
Vatican Radio also attacked the movie, saying that it encouraged "all those pseudo-doctrines that turn ecology into the religion of the millennium." It claimed that in the film, "nature is no longer a creation to defend but a divinity to worship."
In his New Year's Day message for World Peace, Pope Benedict criticized the tendency to consider Nature as more important than the human person, and the "egalitarian vision of the "dignity" of all living creatures." "Such notions . . . end up abolishing the distinctiveness and superior role of human beings. They also open the way to a new pantheism tinged with neo-paganism, which would see the source of man's salvation in nature alone, understood in purely naturalistic terms."
Dr Paul Harrison is president of the World Pantheist Movement and author of Elements of Pantheism (Llumina Press).
Available for interview or for debate with Catholic representatives.
Telephone: (+1) 818 878 0324
###