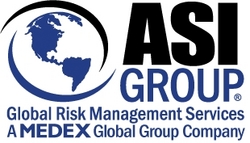 The sooner we know if your organization needs help, the sooner we can make arrangements
(Vocus) January 15, 2010

Baltimore, MD (Vocus) January 14, 2010 -- In the aftermath of the devastating earthquake in Haiti, while many travelers and expatriates are calling MEDEX Global Group for assistance in trying to leave the country, ASI Group, the security subsidiary of MEDEX, has been working diligently to bring relief workers and members of the press into the Haitian capital, Port-au-Prince.
Within 12 hours of the earthquake, ASI Group had arranged multiple helicopter trips into and out of the country. Throughout the day, ASI Group has five helicopters flying back and forth from Port-au-Prince to Santo Domingo in the Dominican Republic. "The operations team worked through the night to help our clients make transportation arrangements to Haiti, and our on-the-ground resources were there to ensure their safety and security once they arrived," says Charlie LeBlanc, President of ASI Group. "We are also actively working to evacuate people from Haiti." Transportation arrangements and assistance has been arranged for major media personalities, first-responders traveling to Haiti, international relief agencies, USAID organizations, and others.
In addition, both ASI Group and its parent company, MEDEX Global Group, are closely monitoring the situation. They are working to provide assistance, locate individuals, and evacuate clients who may be caught in the aftermath of the earthquake. MEDEX is also planning to manage any repatriation of mortal remains that may be necessary. "We are currently trying to locate several individuals on behalf of clients," says Bruce Kirby, President of MEDEX Global Group. "Our thoughts are with everyone during this difficult time."
MEDEX and ASI Group currently have about 50 clients who were living in or traveling to Haiti at the time of the earthquake. Any clients who are known to have travelers in Haiti are encouraged to call the MEDEX Emergency Response Center at 1-800-527-0218 (1-410-453-6330). "The sooner we know if your organization needs help, the sooner we can make arrangements," adds Kirby.
For the most current information on the situation, visit ASI Group's dedicated Web site, WorldWatch® Monitor, at http://monitor.asigroup.com.
About MEDEX:
MEDEX is the oldest and largest independently-owned provider of global travel, security and medical assistance in North America. For more than 30 years, MEDEX has served corporations, scholastic institutions, government agencies, humanitarian organizations and individual business and leisure travelers. MEDEX services range from pre-trip intelligence and contingency planning to real-time medical case management and complex emergency evacuations. For more information, please visit the MEDEX Global Group Website.
About ASI Group:
ASI Group is a trusted name in global risk management services for corporations (including eight of the top 10 Fortune 500 companies), major international organizations and government agencies at home and abroad. Founded in 1989 in Houston, Texas, ASI Group employs intelligence analysts, security consultants, investigators, training specialists and a global agent network that helps clients mitigate and respond to the complex challenges of the 21st century.
Media Contact: Christopher Steber, Director of Marketing, 8501 LaSalle Road, Suite 200, Baltimore, Maryland 21286, Csteber(at)medexassist(dot)com; 410-453-6319
###