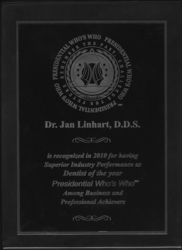 reached a level of recognizable success in their respective field
New York, NY (Vocus) January 15, 2010
Dr. Jan Linhart, a Manhattan-based dentist who focuses on patient comfort and convenience, has been honored by the Presidential Who's Who organization as dentist of the year. Dr. Linhart will be included in the 2010 Edition of the prestigious Presidential Who's Who Among Business and Professional Achievers.
Appearance in the publication is an honor reserved for individuals who have "reached a level of recognizable success in their respective field" and meet "high standards of performance and leadership." Each year the organization reviews thousands of candidates before making its selections. The full directory of professionals acknowledged by Presidential Who's Who is available to those who are selected by the organization, and the 2010 Edition will be registered in the Library of Congress.
In response to his inclusion in the directory, Dr. Linhart states, "It's a pleasure to have my hard work acknowledged by Who's Who. I believe it's a testament to my office's commitment to our patients."
Dr. Linhart has risen to prominence in dentistry through innovative work and constant self-education. His friendly demeanor and ability to put patients at ease has also played a key role. In addition to his inclusion in the 2010 Edition of Presidential Who's Who, Dr. Linhart has previously been featured in numerous publications and hailed as a top American dentist.
He and his wife were also recently honored by Dr. Linhart's alma mater, New York University, by a 2009 induction into the Sir Harold Acton Society, after establishing the NYUCD Linhart Continuing Dental Education Program.
Dr. Linhart's Manhattan offices offer a wide array of dental procedures including porcelain veneers, dental implants, crowns, bridges, Invisalign, iBraces, and natural color restorations. Dr. Linhart has also developed his own unique laser whitening system, PearlinBrite.
###