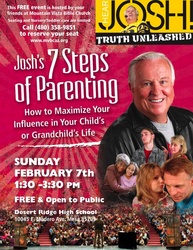 Mesa, AZ (PRWEB) January 15, 2010
On Sunday, February 7th, 2010, author, speaker, humanitarian and noted expert on youth and culture issues, Josh McDowell, will be appearing in Mesa at Desert Ridge High School from 9:30 to 11:00AM, and again at 1:30 to 3:30PM, for a free seminar series on effective parenting strategies. This event also coincides with the start of Josh's 50th year in ministry and service to generations of students, parents, and those in need around the world.
Since 1964, Josh has been a traveling representative of Campus Crusade for Christ International. Over the past 50 years, he has had the opportunity to speak to more than 10 million students at live events at over 24,000 talks in 118 countries. Josh has authored or co-authored 112 books with more than 51 million in circulation around the world - most notably, Evidence That Demands a Verdict, More Than A Carpenter, and The Last Christian Generation.
Josh has received multiple awards and recognitions for helping children worldwide through humanitarian aid. He is also the founder of the Christian ministries Josh.org and Operation Carelift, an international humanitarian aid ministry based in Richardson, TX. In 1991, Operation Carelift began transporting food, clothing, and medical relief supplies, as well as educational materials (including almost 20 million Bibles), to the republics of the former Soviet Union. To date, over $46,000,000 in supplies and support has been distributed through Operation Carelift volunteers.
Josh, whom many in both Christian and secular circles refer to as "America's Dad," is being hosted at this free event by Mountain Vista Bible Church - a local congregation that meets at Desert Ridge High School, and a member of the Evangelical Free Churches of America.
Desert Ridge High School is located at 10045 E Madero Ave, Mesa, AZ 85209 (1/2 mile south of Baseline on Crismon Rd). This event is FREE and OPEN to the public, but seating and childcare for nursery and toddlers is limited. To reserve seating, interested parties should call Mountain Vista Bible Church at (480) 358-9851.
###