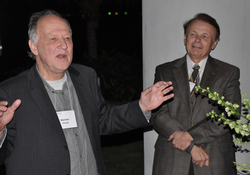 Teaching the motion picture development process at Ringling College is a 'win-win-win' situation
Sarasota, FL (Vocus) January 15, 2010
Acclaimed filmmaker Werner Herzog today helped inaugurate the Ringling College of Art and Design's new Digital Filmmaking Studio Lab with student classes and screenings at the college, culminating with a private screening of his film 'Little Dieter Needs to Fly' and Q & A at the Ringling College Academic Center Thursday evening.
The Digital Filmmaking Studio Lab is bringing some of the world's most renowned filmmakers to Ringing College to work collaboratively with Ringling students on learning the process of motion picture and television development through working on actual projects. As the initial step in the production pipeline for any film or TV program, development is one of the most esoteric and difficult to teach. To this end Ringling College has aligned with A-List Directors, Producers, Screenwriters and Talent to provide real-world experience in the art and science of Filmmaking through acquiring, developing, producing and distributing top-tier content.
The Ringling College Digital Filmmaking Studio Lab is a collaboration of media development company Future Films LLC and the College. Future Films LLC founders Sam Logan in Sarasota and David Shapiro in New York are working with Ringling College's Digital Filmmaking Department Head Bradley Battersby to facilitate the involvement of top-tier people in the film and entertainment industry and identify, fund and acquire projects that the College may develop as the real world educational experience part of the program.
Mr. Herzog conducted filmmaking classes for Ringling College students that included a screening and discussion with students of his just released film 'My Son, My Son, What Have Ye Done?'
The College is currently raising money to finance film projects through the Filmmaking Studio Development Lab Fund, proceeds of which will be used to fund a soundstage for the campus and for the creation of original scripts as well as purchasing the rights to promising screenplays, books and other creative writings which have the potential to become the basis for a film or TV production. The Filmmaking Lab and Future Films are currently in discussions with other industry leaders to develop upcoming projects.
The concept of a Filmmaking Development Studio Laboratory Fund is a new, exciting, and innovative way to work with the rapidly changing motion picture industry. According to Ringling President Larry Thompson, who announced the project, "The Laboratory will benefit the College, the community and the industry. Not only will we be bringing top film professionals to Sarasota to hold public screenings of their work, but the Filmmaking Studio Lab will be working directly with filmmakers on new models of story development, financing, distribution, digital production and post production. The potential benefits of these ongoing creative relationships for our Ringling college students and the greater Sarasota area are vast."
"Teaching the motion picture development process at Ringling College is a 'win-win-win' situation," said Ringling College Digital Filmmaking Department Head Bradley Battersby. "First, it exposes filmmaking students to top writers, directors, and producers; second, it provides real-world experiences for the College students so that they can learn the intricacies and issues involving filmmaking from the beginning stages; and third, it provides an opportunity for writers, directors, and producers to work with filmmaking students and create new material for productions."
To inaugurate the program this January, Ringling College hosted acclaimed German Director Werner Herzog, who's recent filmography includes 'Bad Lieutenant: Port of Call New Orleans,' starring Nicholas Cage (2009), 'Rescue Dawn,' starring Christian Bale (2006), and the critically acclaimed documentary 'Grizzly Man' (2005.)
After a week of intimate student lectures and screenings of Werner's work, Mr. Herzog screened and discussed 'Little Dieter Needs to Fly' (1997) Thursday evening. The film is a documentary about Dieter Dengler, who was shot down over Laos in 1966, captured, and escaped. Barefoot, surviving monsoons, leeches, and machete-wielding villagers, he was rescued. A quiet man of sorrows tells his story: war, capture, harrowing conditions, escape, and miraculous rescue. Where did he find the strength; how did he live with his memories after his rescue? Little Dieter opened to U.S. audiences in 1998 at the Portland International Film Festival. According to film critic Roger Ebert, Dieter can be summed up in one word - "Unforgettable." Dieter's story provided the foundation for the feature film 'Rescue Dawn,' starring Christian Bale.
For more information on the program, including signing up for program updates, please go to http://www.ringling.edu.
About Ringling College of Art and Design
Ringling College of Art and Design is a private, not-for-profit, fully accredited college offering the Bachelors of Fine Arts degree in 13 disciplines: Advertising Design, Computer Animation, Digital Filmmaking, Fine Arts, Game Art & Design, Graphic & Interactive Communication, Illustration, Interior Design, Motion Design, Painting, Photography & Digital Imaging, Printmaking and Sculpture, and a Bachelor of Arts degree in the Business of Art & Design. Located on Florida's Gulf Coast, the picturesque 47-acre campus now includes more than 100 buildings, and enrolls 1,320 students from 46 states and 46 countries. It is recognized as being among the best and most innovative visual arts colleges in the United States as well as a leader in the use of technology in the arts. http://www.Ringling.edu
Contacts:
Media:
Rich Schineller
941.780.8100
rich(at)prmgt(dot)com
Ringling College:
Christine Meeker Lange
941.302.2769
clange(at)ringling(dot)edu
###