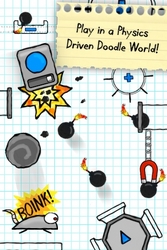 "The challenge ramps up quickly to provide hours of brain-teasing fun..."
Dallas, TX (PRWEB) January 15, 2010
Apple has approved the unique "physics puzzler with a bang" by Bottle Rocket Apps for iPhone and iPod touch. In its first 36 hours of use, players recorded more than 156,000 minutes of game play. In this "easy to learn, difficult to master" doodle-style game, the user controls a bomb-throwing hero who must unlock doors by carefully (or not so carefully) triggering reactions in the game. A cast of clever machines, trigger-happy enemy soldiers, bomb-bouncing mice and more can prevent or help the user achieve their goal.
Doodle Bomb comes with an impressive 50 missions, including 15 super-challenging Bomb Master missions. The physics-driven environment has something for every type of player. The controls are simple, tap in the direction you want to throw a bomb then tilt the iPhone to roll your bomb closer to machines, enemies or door controls before it explodes. The first few levels provide an interactive how-to guide and hints. Missions get increasingly harder until you reach the super-challenging Bomb Master missions.
"We designed Doodle Bomb to be easy enough to pick up and play immediately." said Matt Johnson, lead developer and architect of the game. "The challenge ramps up quickly to provide hours of brain-teasing fun for the casual and experienced gamer alike."
Within 24 hours of the game's release on the App Store, over 17,000 missions were played. On average, users spend 42 minutes playing the game without interruption, and game re-play is very high. The instant popularity is most likely due to positive reviews and feedback from top mobile gaming web sites. Additionally, the app currently has a 5-Star customer rating on the App Store (the highest).
The game is available for both iPhone and iPod touch on the iTunes App Store for $1.99 (U.S).

About Bottle Rocket Apps:
Bottle Rocket Apps (http://www.bottlerocketapps.com) is dedicated to creating high-quality iPhone applications and mobile solutions. Known for such Top 100 iPhone apps as NPR News, Voxie and the Wings series, Bottle Rocket Apps also develops custom apps for companies. With extensive design and development know-how, Bottle Rocket Apps, based in Dallas, TX is a highly-accessible, mobile media company.
###