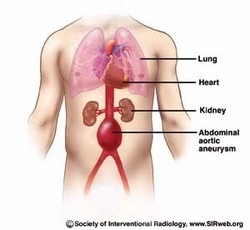 The endobag seals the aneurysm, and to date, we haven't seen any significant movement or shifting of the device
Hollywood, FL (PRWEB) January 18, 2010
Ruptured abdominal aortic aneurysms (AAA) are so deadly, they kill 13,000 Americans every year. Minimally invasively emergency repair of ruptured AAA could save more lives in some cases than traditional open surgery, suggests new data. The latest research on AAA is being presented at the 22nd annual International Symposium on Endovascular Therapy (ISET).
AAA is a bulging of the aorta, the body's largest blood vessel. Eventually, the aneurysm may rupture, causing rapid blood loss and potentially, death. If detected before it ruptures, an AAA that is two inches or larger can be repaired either surgically or with minimally invasive endovascular aneurysm repair (EVAR). In an emergency, patients usually undergo open surgical repair, which is a major procedure.
Open surgical repair of an AAA – whether ruptured or not – involves general anesthesia, an up to 12-inch abdominal incision, clamping of the aorta and replacing the enlarged portion of the aorta with a fabric graft.
EVAR involves threading a tube called a catheter through an incision in the groin to the AAA using X-ray guidance. A collapsed stentgraft, called an endograft, is advanced through the catheter and is expanded inside the aneurysm. The blood flow is redirected through the endograft.
Endovascular vs. Surgical Repair of AAA
A study compared the results of 25 patients who underwent EVAR to 33 who underwent open surgery. All 58 patients were determined to be EVAR-suitable by independent reviewers, meaning that the anatomy of the blood vessels used to access the aneurysm, as well as the aneurysm itself, were favorable for the procedure. Four percent of patients died during the EVAR procedure, compared to six percent during open surgery. After six months, 28 percent of the EVAR patients and 55 percent of the open surgery patients had died, a 27 percent reduction in mortality for EVAR compared to open surgery, which was statistically significant. The hospital stay for open surgery patients averaged 17 days, compared to an average of eight days for EVAR patients.
"Although studies have shown EVAR can be used in an emergency situation, this is the first to compare EVAR and open surgery on a level playing field because all of the patients were deemed EVAR-suitable," Jantje Ten Bosch, M.D., a surgery resident at Atrium Medical Center, Heerlen, Netherlands, who is presenting the study at ISET. "This data strongly suggest that EVAR is a valuable treatment option in EVAR-suitable patients with a ruptured AAA."
Simple Blood Test Can Identify Leaks
EVAR is far less invasive than open surgical repair of AAA, but a downside is that one in 10 such repairs leak (called an endoleak) potentially needing further repair. To monitor for endoleaks, patients undergo CT scans at three, six and 12 months after the EVAR procedure and yearly after that. CT scans are costly and involve high doses of radiation as well as the use of a contrast dye, which can damage the kidneys. Preliminary research suggests a simple blood test may be able to detect when such a leak is occurring, potentially preventing up to 90 percent of follow-up CT scans.
Researchers found that higher concentrations of a blood protein called matrix metalloproteinase-9 (MMP-9) accurately predicted which patients had an endoleak. The study included 37 patients, 17 consecutive patients who had an endoleak matched with 20 who did not, all of which were confirmed by CT. All patients with an endoleak had elevated concentrations of MMP-9, compared to only one patient without an endoleak. In that patient, concentrations were only slightly elevated, and researchers determined MMP-9 concentrations of 55.18 or greater can identify endoleaks with both high sensitivity and specificity.
"The study is the first to show that concentrations of MMP-9 might accurately discriminate between patients with and without an endoleak," said Dr. Ten Bosch, who is presenting the study at ISET. The results must be confirmed by a prospective clinical validation trial, he said.
Endobag May Prevent Leaks
A new type of EVAR device that treats the entire aneurysm – a bag instead of a tube – could solve some of the problems of endografts, including leaking and shifting of the device. It could also be used to minimally invasively treat more people whose blood vessel anatomy isn't conducive to EVAR with an endograft.
The treatment involves advancing two five- to six-inch stents enclosed in the deflated endobags to the site of the aneurysm, one through the right femoral artery, and one through the left. Each stent is inflated with a balloon (which is then deflated) and provides the scaffold defining the channels through which the blood flows. The endobags are filled with polymer and conform to the available space inside the aneurysm. The polymer cures in approximately five minutes to a consistency similar that of a pencil eraser, creating a durable repair designed not to shift or leak. Essentially, the portion of the aorta with the aneurysm is bypassed with two channels that direct blood to the right and left femoral arteries.
To date, 32 people in four countries (Colombia, Venezuela, Latvia and New Zealand) have had the endobag device implanted. Independent audited results are not yet available.
"The endobag seals the aneurysm, and to date, we haven't seen any significant movement or shifting of the device," said Andrew Holden, M.B.Ch.B., professor and director of interventional radiology at Auckland City Hospital, New Zealand. "If results are positive, the system has the potential to treat a significantly larger group of patients with abdominal aortic aneurysm whose anatomy isn't conducive to placement of an endograft."
Co-authors of the endovascular vs. surgical repair study being presented by Dr. Ten Bosch are E.M. Willigendael, E.R. de Loos, L.M. Kruidenier, M.H. Prins and J.A.W. Teijink.
Co-authors of the study on the blood test to check for EVAR leaking being presented by Dr. Ten Bosch are F.A.M.V.I. Hellenthal, B. Pulinx, W.K.W.H. Wodzig, M. de Haan, M.H. Teijink, and G.W.H. Schurink.
Co-authors of the trial on the endobag being presented by Dr. Holden are F. Moll and A. Hill.
The International Symposium on Endovascular Therapy (ISET) is attended by more than 1,200 physicians, scientists, allied professionals and industry professionals from around the world. The meeting pioneered the use of live cases to promote the multidisciplinary treatment of cardiac and vascular disease by endovascular means. ISET is presented by the Baptist Cardiac & Vascular Institute, Miami. ISET 2010 is taking place Jan. 17-21 near Miami Beach, Fla. For more information, visit http://www.ISET.org.
Editor's note: Study numbers are current as of January 12, 2010 and may change upon presentation at the ISET meeting.
Copies of the 2010 ISET news releases are available online at http://www.ISETnews.org.
###