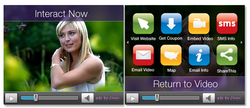 San Mateo, CA (PRWEB) January 19, 2010
Jivox, the leading provider of interactive video ad technology for online media companies and advertisers, today introduced custom interactivity features in the platform that turn online video ads into interactive applications to drive user engagement and direct response. Using Jivox, creative agencies and advertisers can now add their own custom Flash or HTML applets to video ads so that users can interact with the ad without ever leaving the player. Jivox has also extended the interactivity available in Jivox' in-banner video ads to in-stream video ads. Media companies will now be able to embed Jivox's "in-stream ad plug-in" into a content player to easily serve a video ad in-stream, with full interactive and analytic capabilities.
Ads created using the Jivox platform, whether for in-stream or in-banner placement, go far beyond the initial concept of "TV commercials online." Unlike the passive medium of television ads, interactive video ads enable advertisers to directly engage their customers and also instantly measure viewers' response by tracking their interactions. They also bring immediacy to the interaction: instead of having to click through to a web site, users can often get all the information they need directly from the interactive ad.
With the new version of Jivox, there's virtually no limit to the kinds of interactions advertisers can design to engage with customers. Advertisers can even re-use existing interactive marketing elements in their online video ads. For example, after seeing a video ad for a product or service, users could now launch interactions such as:

Taking a virtual home tour;
Seeing a Flash tour of a car interior and requesting a test-drive;
Displaying a map to find the closest store location;
Showing a series of video clips for a concert tour;
Participating in a trivia contest or quiz to win a discount;
Requesting a quote for an insurance policy or home loan.
For more information about custom interactivity, please visit http://www.jivox.com/interactivity.
Jivox also announced today that it has added new social media sharing capabilities to the platform. Jivox makes social network distribution of video ads easy by enabling users to embed interactive ads on 40 social networking sites. This new feature not only supports viral distribution of the ad via social media, but also ensures that the ad gets continued distribution even when the ad campaign is over.
"The Internet has changed from a passive medium to an active medium where you can go to interact and engage with information. Our new interactivity and sharing capabilities tap into this shift, turning online video ads into powerful vehicles for direct response, social recommendations and immediate product discovery. The end result is a better-informed, more engaged customer, improved ad performance and ultimately higher ROI on video ad campaigns," said Diaz Nesamoney, CEO of Jivox.
To see examples of Jivox ads in action, please visit the ad gallery at http://www.jivox.com/adgallery.
Jivox continues to be an innovator in the online video advertising market in order to deliver the capabilities that publishers and advertisers seek, and its strong focus on technology has made Jivox the partner of choice for many media companies and advertisers alike. Jivox announced today that more than thirty media groups, including Gannett, Media News Group, McClatchy and E.W. Scripps, are now using the Jivox online video ad platform to offer online video advertising to customers. Jivox also announced that it had grown revenue by 600% in 2009 and added more than 3,000 new advertisers to the service in 2009.
For tips on creating online video ads and other online marketing insights, check out the Jivox blog at http://www.jivox.com/blog.
About Jivox
Jivox is the leading provider of interactive video ad technology that enables businesses to reach new customers online. Many of the nation's largest media companies and advertisers are using the Jivox platform to create and distribute interactive video ads and manage their ad operations more effectively. Jivox offers advanced ad creation tools and targeted distribution through its network of over 1,000 media and content websites, as well as through directory listings, viral marketing programs, email campaigns, social networks and more. Jivox also provides sophisticated analytics that drive continuous campaign improvement, including a unique "video engagement score" that gives advertisers immediate insight into campaign performance. Jivox is a privately held company headquartered in San Mateo, Calif. For more information about Jivox, please visit http://www.jivox.com.
###