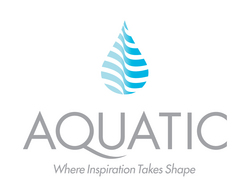 At Aquatic, we recognize and are inspired by the power of our products to relax, refresh, reinvigorate and renew – to deeply enhance every customer's life, whatever his or her needs
Anaheim, CA (Vocus) January 19, 2010
Lasco Bathware, the top choice of builders for bathtub and shower products, and Aquatic Whirlpools, renowned among designers and discerning consumers for beautiful and luxurious bathing hydrotherapy, today announced that they have merged into one company called Aquatic (booth #C3318 at the 2010 International Builders' Show).
Supplying more than one-fourth of all bath fixtures sold annually in the United States, Lasco Bathware alone has offered more whirlpools, air baths, showers and shower systems than any other manufacturer. Lasco also continually pioneers innovative production technology. Aquatic Whirlpools has been the industry's leading luxury whirlpool bath company, recognized for elegant design, the highest quality materials and an unmatched warranty.
With 65 years of combined experience, the new company melds Lasco's product breadth and operational excellence with Aquatic Whirlpools' sleek and inventive design to create the broadest and most inspirational offering in the bathware industry today. Now distributors, builders, architects, other specifiers and consumers can tap a single source for more than 330 luxury hydrotherapy, everyday and accessible bathing products – all superbly designed and fabricated to provide customers with a transformative daily experience.
"At Aquatic, we recognize and are inspired by the power of our products to relax, refresh, reinvigorate and renew – to deeply enhance every customer's life, whatever his or her needs," said Gary Anderson, President of Aquatic. "That inspiration is built in to everything we do – from the way we design, engineer and manufacture our products to how we work with our distribution partners to the customer experience at every touch point while planning and shopping for and ultimately benefiting from our tubs and showers."
The new Aquatic provides new efficiencies for distributors and builders as a result of consolidating key functions. These include:

National production by six plants geographically distributed across United States;
Distribution through the company's own trucking operation of 200-plus tractor trailers; and
Centralized customer service for placing/tracking orders, technical support and field service/warranty repair.
Aquatic is a subsidiary company of Tomkins PLC (LSE: TOMK and NYSE: TKS), the London-based, global manufacturing group serving the industrial, automotive and building markets, and owner of some of the best-known brands in these fields. Tomkins, which had 2008 annual sales of $5.5 billion, also owned Lasco and Aquatic Whirlpools.
About Aquatic
Aquatic is the world leader in bathware and shower products. Born from the 2010 merger of Lasco Bathware and Aquatic Whirlpools, Aquatic offers the broadest and most inspiring selection of luxury hydrotherapy, everyday and accessible bathing products. Based in Anaheim, California, Aquatic serves distributors, builders, architects, designers and consumers through a nationwide network of state-of-the-art facilities for manufacturing, distribution and support. For more information, visit http://www.aquaticbath.com.
###