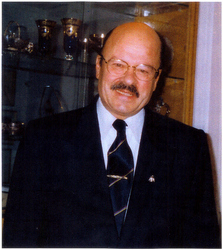 Unselfish Love without Limits is the only reliable solution, for All Conflicts and Sufferings of the Humanity.
Orlando (PRWEB) January 20, 2010
Admiral P.Kikareas President of the World Foundation For Peace and Security, after the last earthquake in Haiti and the almost 100000 deaths and more coming, made the announcement that, "God tries to make people understand that only with Unselfish Love, all the problems of the World might be solved"
There is a great need to stop harming, killing and not caring for each other. This way of living never stops. By only demanding without caring for our neighbors is an endless process with no end.
History has proven through the centuries that the same problems arise repeatedly. Wars, revolutions, killings, poverty, physical disasters, catastrophes of all kinds, deceases, Authoritarians with huge ego self named Great Leaders etc. History comes and goes in circles again and again and people don't learn the lesson.
"Kikareas says", that the lesson, which God tries to teach us in order to live in harmony, peace, security, happiness, understanding and joy is only one. Unselfish Love, Love without limits, Love with no expectations, Love with Humiliation. Then all the problems of human kind and of our planet will automatically disappear.
All religions and philosophies and theories, which use wars and disasters, do not come from God. Do not come from people with unselfish Love. They come from people with hate, from theories written from authors with hate, from religions used by leaders full of hate, the results are clear and we know them. We live into this world of hate and selfish people, who don't care for anyone or anything else except their evil ego.
Apostle Paul has written, the greater ever written hymn of this real unselfish Love:
"1-CORINTHIANS 13: Though I speak with the tongues of men and angels, but have not love, I have become sounding brass or a clanging cymbal. And though I have the gift of prophecy, and understanding all mysteries and all knowledge, and though I have all faith, so that I could remove mountains, but have not love, I am nothing. And though I bestow all my goods to feed the poor, and though I give my body to be burned, but have not love, it profits me nothing.
Love suffers long and is kind; love does not envy; love does not parade itself, is not puffed up; does not behave rudely, does not seek its own, is not provoked, thinks no evil; does not rejoice in iniquity, but rejoices in the faith; bears all things, believes all things, hopes all things, endures all things.
Love never fails. But whether there are prophecies, they will fail; whether there are tongues, they will cease; whether there is knowledge, it will vanish away. For we know in part and prophesy in part. But when that which is perfect has come, then that which in part will be done away.
When I was a child, I spoke as a child, I understood as a child, I though as a child; but when I became a man, I put away childish things. For now we see in mirror, dimply, but then face to face. Now I know in art, but then I shall know just as I also am known.
And now abide faith, hope, love, these three; but the greatest of these is Love."
"Kikareas", ask all the Leaders of the World, all the very rich and mighty people, all the academics teachers and students, all the Populate of the world of any belief, to consider unselfish love into all decisions and actions. This will give the best solution and the best answer of all the problems. Lets step back for a while and think. Never fear the small numbers, one brings the other and the others bring more and then the "real change" will come and will be the greatest, which will transform all humanity into a living paradise.
With love and care a humble messenger of God.
Admiral P.Kikareas PhD
Hellenic Aspis & Associates Inc.
World Foundation For Peace and Security
President and Founder
###